If your weakness is snacking, listen up. There could be hope.
A recent study published in the International Journey of Obesity has found that exercise appears to have a positive influence on people's dietary choices — without them even realising it.1 Good news for everyone who's still in denial about what a 'share bag' actually means.
The U.S study was conducted with 2,680 participants, aged between 18 and 35, from the University of Houston and the University of Alabama. The students chosen were those who did not regularly exercise (less than 30 minutes a week) and who did not follow a particularly healthy diet.
These students then completed a 15-week aerobic exercise training programme, which consisted of three 30-minute workouts each week — using treadmills, stationary bikes, and elliptical machines. During each session, participants wore heart rate monitors in order to record exercise intensity, and were asked to fill out a 'food frequency' questionnaire before and after exercise.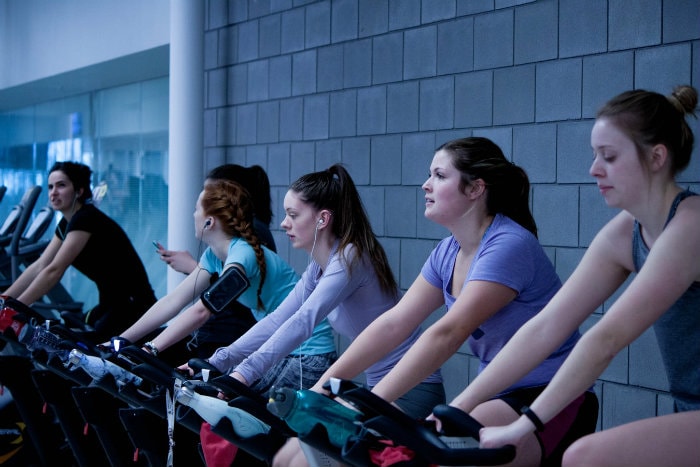 Over the course of the programme, a total of 4,335 dietary observations with 102 different food items were noted, which researchers were then able to identify dietary patterns from. The results showed that most dietary pattern scores decreased following the exercise training — consequently, a higher dose of exercise was related to a decreased preference for snacking and increased regulation of food intake.
By the seventh week of the exercise programme, so about midway, researchers reported that the majority of the students were choosing foods like fruits, vegetables, and lean meats over their previous preferences for unhealthier options such as fried food and fizzy drinks.
Bottom line: despite the fact that participants were not told at any point to change their diets, they did so anyway.
Yet another reason to dust off those trainers and get your heart-rate going, right? Whether it's joining a gym, braving a run, or choosing to commute by bike over bus — it could make all the difference when it comes to trying to stick to healthy eating.
This new study may also help to support a more established theory that there's a relationship between exercise and the amount of appetite-regulating hormones in the body. For example, a study in the European Journal of Applied Physiology found that twelve young male participants experienced a suppressed appetite, not only during sprint interval and endurance exercise, but for hours after too.2
So, not only is there a chance you'll be a bit pickier about what kinds of snacks you reach for after a run, but you may not even feel the urge to snack in the first place. We told you there was hope.