What better way to kick off the new year than with some fresh new threads? Everyone knows that half the battle of working out is finding the motivation to actually get to the gym in the first place – which is exactly what these high-performing pieces provide.
But don't just take our word for it, check out the latest launches, including the brand new Shape Seamless Ultra collection, in action in this exclusive haul video with Rosi Jay Pierce.
https://www.youtube.com/watch?v=wCaGIYxB1Oc
Need The Details?
We don't blame you for wanting to know more about the incredible pieces that Rosi's wearing, so here are the stars of the show, in order of appearance:
Now this is the sports bra your new kit needs. We'll have you covered from the moment you start your warm up, right through until you hit the changing rooms. Providing medium-support and a second-skin fit, the Ultra Sports Bra is finished with a fierce laser-cut pattern and key hole back.
These might be our most flattering fit yet. Designed to support and sculpt, they're super high-waisted with curve-contouring knit panels, and bold laser-cut detailing for a striking finish that improves airflow. Complete with sweat-wicking technology, they're always ready for your next move.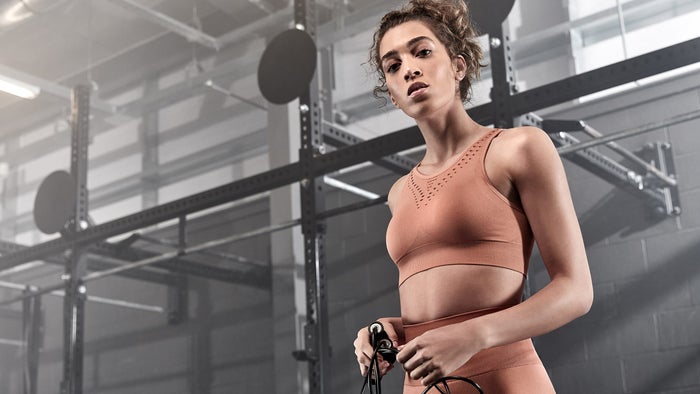 Mix it up between matte or shine, with our Reversible Bomber it's never been easier to keep your look fresh. Stay warm on the way to your next session or as you're out and about on rest days, with secure zip pockets it's perfect to keep your valuables safe when you're on the move. Choose from classic Black or show-stopping Dark Indigo.
We thought we'd give one of our bestselling collections a little new year make over with exciting new colourways. Rosi's rocking the Shape Seamless Sports Bra, Crop Top and Leggings in the gorgeous Seafoam shade, but the bra and leggings also come in a sleek Taupe and the crop is now available in Copper Rose and White. Yep, we know how to treat you.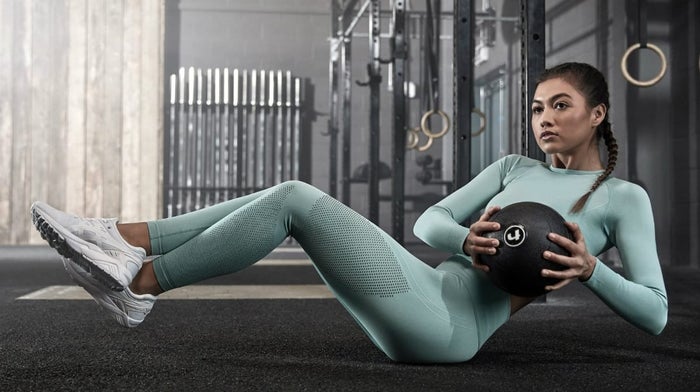 Spring Long-Sleeve T-Shirt
Landing January 14th
Not everyone's comfortable working a bra and leggings combo at the gym – especially so soon after Christmas – but don't worry, we've got you covered with this long-sleeved beauty. Simple and soft, it's an easy-to-wear layer that won't get in your way of your workout. Coming in Duck Egg, Teal Green or Black there's a perfect match for any of your leggings.
New colour landing January 14th
Another old favourite in a new colour – the Escape Vest is a gym kit essential that can be worn day in, day out, no matter what your training type. Light and loose-fitting, it's easy to throw on over the top of your outfit, or can be knotted for a more fitted look. Go for the brand new Copper Rose as seen on Rosi, or stick to basics with Black and White.
Fly T-Shirt
Landing January 14th
Another staple that you can rely on from session to session, the Fly T-Shirt might look like another average gym top at a glance, but trust us there's a whole lot more behind this. The split back design gives you the best of both worlds – coverage at the front, but room to breathe when your workout starts heating up. Everyone's a winner.
Take Home Message
What are you waiting for – get your hands on these amazing new pieces and get straight into that workout regime you promised yourself you'd be starting in January.
Lauren is an English Literature graduate originally from the South. She's always loved swimming, has discovered the power of weight training over the past few years, and has lots of room for improvement in her weekly hot yoga class. On the weekends she's usually cooking or eating some kind of brunch, and she enjoys trying out new recipes with her housemates – especially since shaking off student habits, like mainly surviving off pasta. Above all, she's a firm believer in keeping a balance between the gym and gin. Find out more about Lauren's experience here: https://www.linkedin.com/in/lauren-dawes-b4416aaa/