Meeting those ketosis macros has never been easier than with the Keto Blend. 
Since 2017, the keto diet has grown into the most searched diet trend in 2019 – even surpassing searches on veganism.  It's become a hugely popular trend among celebrities and everyday dieters alike. With 15.2 million social media posts behind #keto alone, there's certainly no hiding from the ketogenic diet anymore. So, what exactly is it? 
The keto diet usually follows a macro ratio of 75% fat, 20% protein and 5% carbohydrates — sadly it doesn't mean you can just spoon chocolate spread out of a jar to get to 75% fat.  
However, more active keto dieters follow a higher protein variation with a ratio of 60% fat, 35% protein and 5% carbohydrates. While there's still no heaped spoons of creamy chocolate to meet that fat goal, luckily for you, there's an indulgent alternative that will keep you on track.  
Meet the Keto Blend.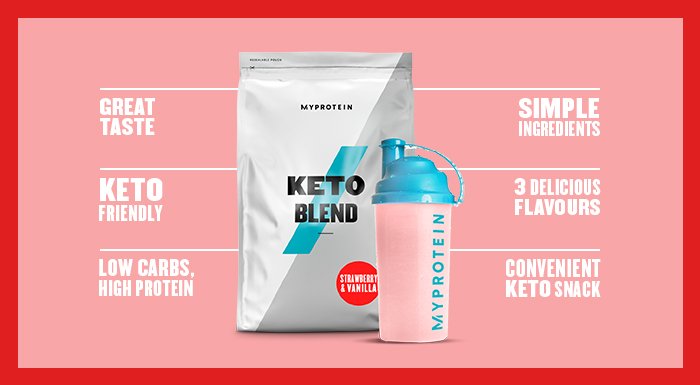 Stay on track
Our new Keto Blend will assist anyone following the high-protein ketogenic diet offering a unique blend of 60% fat, 35% protein and 5% carbs per serving. This not only matches the recommended macros for a high-protein keto diet, it also has a nutritional value far superior to any of our closest competitors.  
It's designed to work effortlessly alongside your keto diet, with the nutrients you need to supplement an active and balanced lifestyle.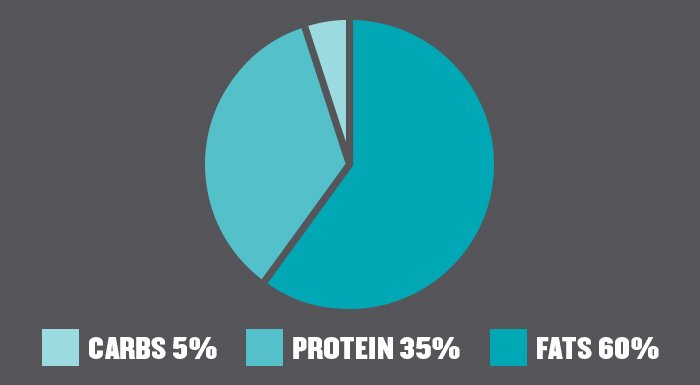 Whole food ingredients
We have carefully and meticulously picked ingredients that are easily recognisable and packed with whole food goodness to fill up the Keto Blend.  
If you've been keto for a while, then avocado is probably almost always at the top of your shopping list. It's only right that it's in your favourite shake then, right? We've added avocado to help add some unsaturated fat and provide a creamier texture and make it feel extra indulgent.  
You can also count on whole egg for that extra pump of protein and healthy fats. We know this is another staple for your keto diet, so why not get it all in one simple shake? It'll also boost your vitamin intake, containing fat-soluble vitamins A, D, E, and K.  
The main protein source comes from whey protein isolate — a refined form of whey protein that boasts around 90% protein, as well as being low in sugar.  
Finally, medium chain triglycerides (MCT) have been added to this specialised mix. These are a special class of fat molecule that's easily digestible and absorbed quickly by the body, making it the perfect instant energy source to keep you in ketosis. 
Full on flavour
Now the good part — the flavours. The Keto Blend comes in 3 mouth-watering, indulgent flavours designed to help curb those carb cravings and keep you on track for keto success.  
Want to reminisce about days on the beach slurping up ice cream? Try the all-time classic combination of Strawberry and Vanilla. This fresh and creamy blend is sure to bring a smile to your face. 
If you have a sweet tooth, then this next one may help curb those cravings. Take a sweet sip of Chocolate and Caramel — a mix of rich chocolate and silky-smooth caramel that will make your mouth water when it hits your taste buds. 
For those of you craving a spongey slice of cake, Coffee Walnut flavour will answer all your prayers. With a rich taste and aroma, you'll forget all about the real thing.  
Take-home Message
No need to suffer on shakes that don't quite meet those keto macros. The keto Blend offers everything you need to reach your fitness goals while keeping up that all-important ketosis. You don't need to miss out on delicious flavours with the convenient shake packed with whole foods.  
Our articles should be used for informational and educational purposes only and are not intended to be taken as medical advice. If you're concerned, consult a health professional before taking dietary supplements or introducing any major changes to your diet.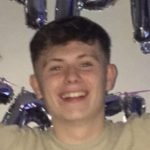 Isaac is a brand communications apprentice with a passion for all things fitness. He has always had a passion for football, playing at a high youth level and enjoying 4 years of competitive kickboxing. Over recent years Isaac has dedicated himself to continually improving in the gym, enjoying both functional fitness and bodybuilding styles of workouts. He strongly believes that you should always have balance and likes to spend his time at the weekends socialising with his friends.