Need a breakfast to help you to power through until lunch? This bowl of oats is bursting with berry goodness and packed with protein for a deliciously healthy start to the day. If you prefer your oats dairy-free, then you can switch it up to your favourite milk and yoghurt for a big bowl of oats, whatever your taste.
The purply porridge from the berries is sure to brighten up the darkest of mornings and get you ready for the day. It's also incredibly low in fat and contains only natural sugar, making it the perfect health kick start.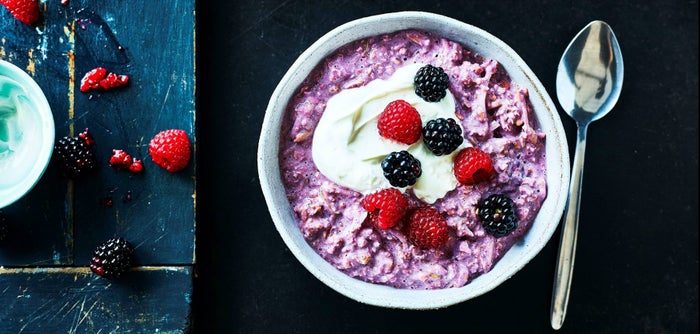 Makes: 2 servings
Ingredients
1 pear, cored and grated
150ml skimmed milk
65g fresh or frozen raspberries or blueberries
30g blackberries
50g yoghurt, such as Greek, natural, soya
Alternative ingredients: To make this dairy-free, swap the skimmed milk for the same amount of another milk (e.g. almond).
Method
1. Mix together the protein powder, oats, dried cranberries or raisins and cinnamon in a large bowl.
2. Next, pour in and stir through the apple juice, then cover and chill overnight.
3. Before eating the following morning, stir through the grated apple, ground flaxseed and yoghurt. Scatter over the nuts and serve.
Tip You can make this delicious recipe in bulk, as it'll last for three days in the fridge.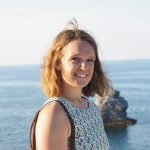 Evangeline is a Veganuary convert and newbie vegan with a degree in English and French from the University of Nottingham. Having recently ditched the meat and dairy, she really enjoys the new flavours and cooking techniques she's encountered on a plant-based diet. She's been shocked by the millions of ways you can use tofu, however still hasn't found a decent cheese substitute! When she's not in the office or eating, Evangeline usually out running or sailing. As a qualified RYA Dinghy Instructor and a marathon runner, she knows the importance of providing your body with the right nutrients for endurance sports as well as a busy lifestyle. Find out more about Evie's experience here.