Whether you're vegan or not, you have to get a forkful of this sticky sesame tofu.
---
Niall Kirkland is here to help you spice up your Veganuary efforts with a delicious tofu recipe that's a full-on flavour sensation. If you're not keen on tofu, we're willing to guarantee you just haven't cooked it right yet, trust us.
With a sweet and sour sauce that's as rich as this, we promise you'll not be disappointed. Not to mention the spring onion and sesame seed garnish — they might sound like a small addition but boy do they make a whole lotta difference to the finished piece.
Serves 2
Ingredients
For the crispy tofu:
1 block firm tofu
Salt & pepper to taste
25g cornflour
2 tbsp. soy sauce
1 tbsp. coconut oil
For the sticky sauce:
2 tbsp. soy sauce
3 tbsp. Sugar-Free Sauce (Sweet Chilli)
2 tbsp. agave syrup
2 tbsp. tomato ketchup
2 garlic cloves (crushed)
1 tbsp. rice wine vinegar
1 tsp. garlic granules
1 tsp. cornflour mixed with approx. 50ml boiling water.
To serve:
Chopped spring onions
Sesame seeds
Basmati rice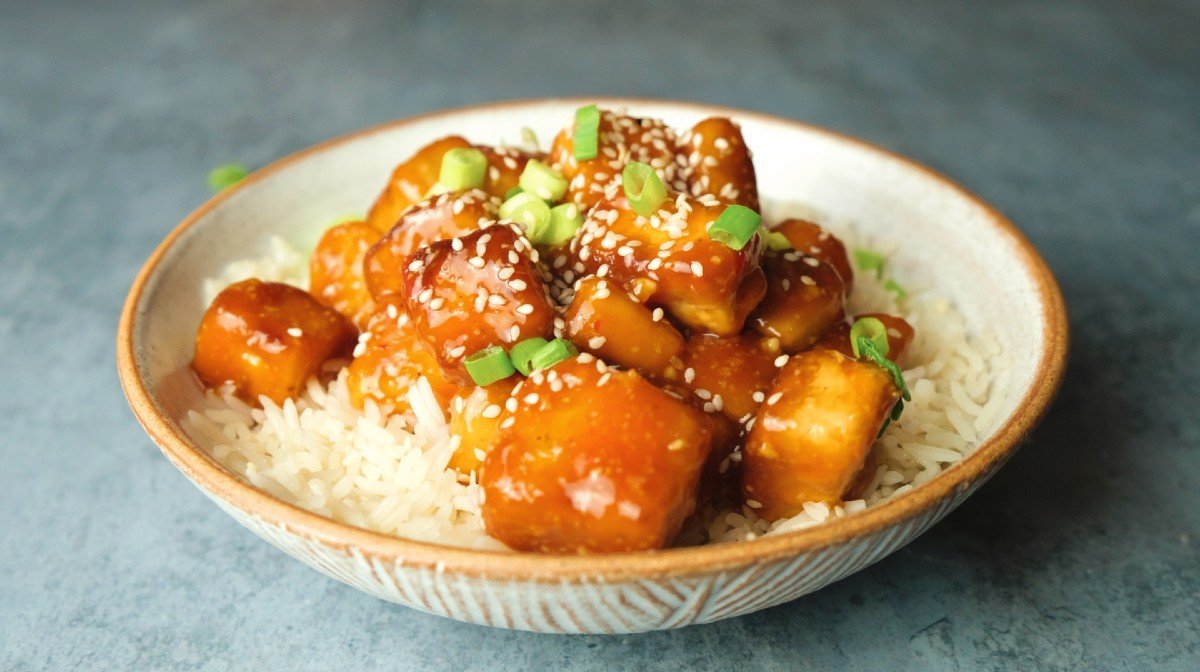 Method
First, dice the tofu into 2cm cubes and season generously with salt and pepper.
Transfer diced tofu to bowl filled with soy sauce and toss until all pieces are coated.
Then, transfer the tofu pieces into bowl filled with cornflour, toss until completely coated, and set aside.
Mix all of the sticky sauce ingredients together (apart from the cornflour mixture) and set aside.
Heat the coconut oil in a non-stick pan and add your coated tofu pieces. Cook for 4-5 minutes on a medium heat (the oil should be sizzling slightly). Check tofu pieces are golden and crispy on the cooked side before flipping and cooking the other side until golden and crispy.
Once cooked, remove tofu from pan and set aside. Give your pan a quick clean with a paper towel and add the sticky sauce.
Bring sauce to a low simmer and cook for 5 minutes. Add the cornflour mixture and stir well. Bring to simmer once more and cook until sauce thickens, this should take 3-4 minutes.
Add crispy tofu back to pan and toss in the sticky sauce. Careful not to leave tofu in the pan for too long or it will lose its crispiness.
Serve with basmati rice and garnish with spring onions and plenty of sesame seeds.