Looking for new healthy pasta recipes? This lean and creamy sausage pasta will liven up your meal prep routine – and then some.
Fed up of your daily chicken, rice and broccoli meal prep? Yup, us too. Try this super-lean, high-protein creamy sausage pasta for your next batch meal prep session.
Made with quark in place of cream cheese and reduced-fat sausages, we've kept this pasta lean without skimping on flavour — each delicious serving offers up an impressive 34g of protein, with less than 6g of fat.
Click to jump straight to the nutritionals.
Makes 4 
https://youtu.be/4tDWi-A72iY
Ingredients
1 tsp. 100% Coconut Oil
1 leek (finely sliced)
2 cloves garlic (chopped)
8 reduced-fat pork sausages (sliced)
200g quark
1 tin chopped tomatoes
240g wholemeal penne pasta
1 tsp. dried chilli flakes
Salt & pepper to taste
Handful fresh basil leaves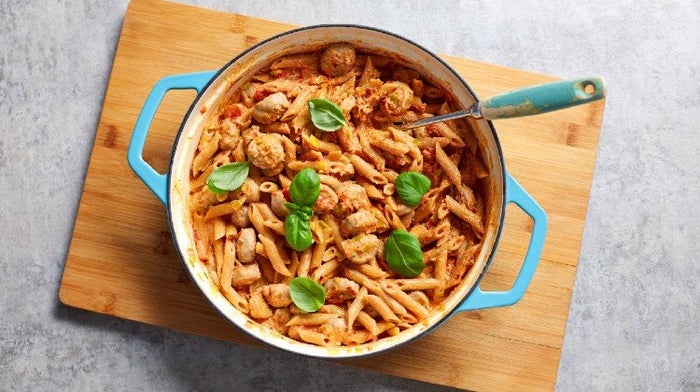 Method
Add the coconut oil to a large, non-stick pan on a medium to high heat. Add the sliced leek into the pan and fry for 3-4 minutes, stirring occasionally.
Add the garlic and pan fry for a further 2 minutes, then add the sliced sausages and fry for 6-10 minutes, stirring occasionally, until they are brown on all sides. Add the chilli flakes and season with salt and pepper to taste.
Next, the tin of tomatoes and stir to combine. Let bubble for a few minutes and then add the quark, mixing through thoroughly to get a rich, creamy sauce.
Add the cooked pasta to the pan and mix in with the sauce so that it's all combined.
After a few minutes, take the pasta off the heat and portion up into containers, garnishing with fresh basil leaves.
Looking for more healthy pasta recipes?
Or, try these macro-balanced meal prep ideas:
Nutritional info per serving:
| | |
| --- | --- |
| Calories | 415 |
| Total Fat | 5g |
| Total Carbohydrates | 48g |
| Protein | 34g |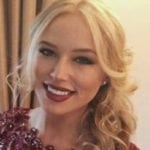 Jennifer Blow is our UKVRN Registered Associate Nutritionist – the UK's register of competent and qualified nutrition professionals. She has a Bachelor's of Science in Nutritional Science and a Master's of Science by Research in Nutrition, and now specialises in the use of sports supplements for health and fitness, underpinned by evidence-based research.
Jennifer has been quoted or mentioned as a nutritionist in major online publications including Vogue, Elle, and Grazia, for her expertise in nutritional science for exercise and healthy living.
Her experience spans from working with the NHS on dietary intervention trials, to specific scientific research into omega-3 fatty acid supplementation and also the effect of fast foods on health, which she has presented at the annual Nutrition Society Conference. Jennifer is involved in many continuing professional development events to ensure her practise remains at the highest level. Find out more about Jennifer's experience here.
In her spare time, Jennifer loves hill walking and cycling, and in her posts you'll see that she loves proving healthy eating doesn't mean a lifetime of hunger.