Post-workout mocktail? Yes, please.
These deliciously refreshing Clear Whey Isolate mojitos are just what you need to cool down after a hot training session or just to stay topped up on protein during a sunny day.
Made with all the classic mojito ingredients, they're a complete taste sensation, only they're so much more hydrating and macro-friendly than the real deal. At 100 calories a serving, each one packs in over 20g of quality protein — ideal for supporting your training goals this summer.
Each serves 1 
Ingredients
For the classic mojito:
For the strawberry mojito: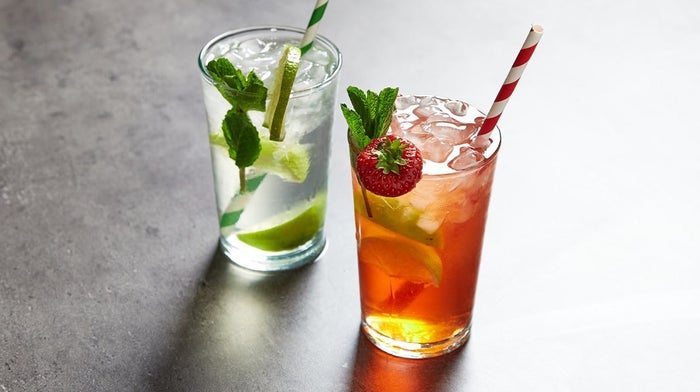 Method
For both flavours, add a scoop of our incredible mojito-flavoured Clear Whey Isolate to a shaker along with 150ml of water. Shake until smooth & lump-free. Allow to rest for 10-15 seconds so that the froth settles.
If making the strawberry mojito, place a few fresh strawberries in a small bowl and crush gently so that you have a pulp. Then pour through a strainer into a glass.
Add ice and lime wedges to a tall glass, then pour in the mojito Clear Whey Isolate mix. Top up with a dash of soda and garnish with a few mint leaves.
Try these refreshing recipes next:
Nutritional info per serving:
| | |
| --- | --- |
| Calories | 100 |
| Total Carbohydrates | 3g |
| Protein | 20g |
Lauren is an English Literature graduate originally from the South. She's always loved swimming, has discovered the power of weight training over the past few years, and has lots of room for improvement in her weekly hot yoga class. On the weekends she's usually cooking or eating some kind of brunch, and she enjoys trying out new recipes with her housemates – especially since shaking off student habits, like mainly surviving off pasta. Above all, she's a firm believer in keeping a balance between the gym and gin. Find out more about Lauren's experience here: https://www.linkedin.com/in/lauren-dawes-b4416aaa/