Farah Fonseca has earned a lot of titles in her career so far, winning England's Strongest Woman on three separate occasions. And she'll soon have another title under her belt — mum.
We caught up with her recently to find out how her pregnancy is going, what her training plans are pre- and post-partum, and how she's adapting to her changing body. This is what she had to say.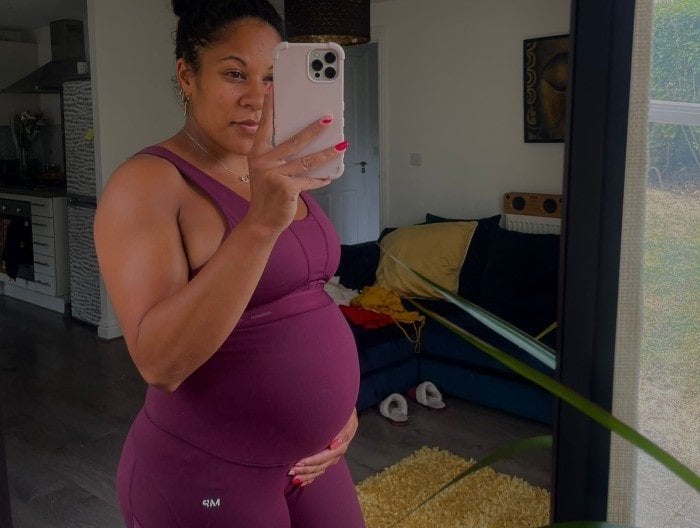 How did you feel when you found out the news?
"Excited and anxious! Excited because I feel this is the right time for my next journey. I was competing for seven years in strongwoman, and with the start of opening up my new gym, I feel as though I am moving into the next stage of my life.
"Anxious mainly due to the gym just opening, but grateful knowing I have a team of very supportive ladies who work with me. Also, the anxiousness of thinking: 'Am I doing this right? Am I lying in a position that could crush the baby?' That tends to be the main thing I get anxious about!"
What part of motherhood are you most excited about?
"To be able to hopefully pass on some great lessons with regards to movement and lifestyle. Seeing your little one develop a skill must be one of the most rewarding moments of being a parent when you've helped to guide them there."
Do you have a plan when it comes to training through pregnancy?
"From the beginning of my pregnancy, my pelvis has been relatively sore, so I've had to adjust some movements of my lower body routine. I am making sure to do yoga at least once per week and then a minimum of three other sessions in that week. I'm now doing much lighter, high-rep typical 'bodybuilding' split sessions rather than strength-based work."
Do you have a plan for training once your baby arrives?
"Luckily at my gym, we run pregnancy and post-natal classes. My main focus will be looking after my body with our post-natal classes and not trying to rush back to any heavy lifting before I'm ready, ensuring the foundations for movement are back in place and nice and strong."
What are some tips that you've found helpful for training through pregnancy?
"Listen to your body. On the days your body is willing to be pushed more, go for it. And on the days it needs rest, do that. As our bodies get bigger, there are some obvious changes that need to be accounted for such as pelvis position and diastasis (abdominal wall separation), so listening to any pain or discomfort is important."
Has fitness and lifting helped you through your pregnancy so far?
"I believe so, yes. Not only physically, but mentally too. I naturally eat better when I'm exercising regularly, which I know is important for the baby. Not putting on a huge amount of body weight. by exercising as often as possible and eating well, will also help with my mind, getting back into fitness after the baby is here."
How have you dealt with changes in your body, and what advice would you give to pregnant women struggling to accept their new bodies?
"I would say this has to be one of the most surreal moments a woman can go through — the ability to grow life. Not every woman has this chance, and to be able to see and feel how new life is formed may be a big contributor to seeing your body change. Ensuring you're eating well and exercising often, if allowed, may also help with the reduction of weight gain through pregnancy, which may also help."
Has your supplement routine changed since pregnancy? What's your supplement routine looking like now?
"Due to the beautiful weather, I haven't had to take much vitamin D recently, but my most important other supplement is fish oil."
What's your go-to act of self-care right now?
Seeing friends or sleeping. Sleeping because I am always tired and everyone keeps telling me I'll never sleep the same again, which is scary! And my friends are all my soulmates, so spending time with them, picks me back up."
Take home message
We're so excited for Farah's journey into motherhood and can't wait to see what's next for her. I wish her all the luck in the world, but to be honest, I don't think she needs it.
Check out Farah's Instagram page here to stay up to date.
Enjoyed this article?
READ THESE NEXT: