Food prices have been rising for several months — thanks to the perfect storm of Brexit, the energy crisis and various other global issues — and it's expected they will continue to rise in the months ahead.
In January, food writer and food poverty campaigner Jack Monroe posted a series of viral tweets illustrating how the increased price of food affects the poorest the most. Some supermarket basic items, such as pasta, rice and tinned foods, have gone up in price by up to 344%, according to her calculations.
Unfortunately, the situation is unlikely to change overnight, so it's left to consumers to carry the burden and find their own solutions. While own-brand products have had some of the highest relative price increases — as Jack Monroe's tweets show — they are still some of the most budget-friendly options for shoppers looking to save money.
Virtually all the UK's leading supermarkets provide a range of own-brand alternatives, with products far more nutritionally dense than many people realise. In fact, it's more than possible to eat a fully rounded diet on supermarket own-brand items. Here's how you can save money while still eating healthy.
What is a "healthy" diet?
The NHS Eatwell Guide outlines how to follow a "healthy, balanced diet":
Eat at least five portions of a variety of fruit and vegetables every day
Base meals on potatoes, bread, rice, pasta or other starchy carbohydrates
Have some dairy or dairy alternatives (like soya drinks and yoghurts)
Eat some beans, pulses, fish, eggs, meat and other protein
Choose unsaturated oils and spreads, and eat in small amounts
It's also recommended that we limit our intake of fat, salt and sugar (highly processed foods and sugary drinks, for instance) and drink plenty of water (six to eight glasses a day).
It's worth mentioning that the NHS Eatwell Guide is a broad dietary guideline and does not need to be followed strictly at every meal. A healthy, balanced diet is achieved over a long period of time, so it's fine to treat yourself every so often.
Can you eat a healthy diet on supermarket value brands?
Yes. You absolutely can follow a healthy diet by buying supermarket value brands. But some supermarkets are cheaper than others.
Which?, the consumer champion organisation, runs a monthly comparison of UK supermarkets, tracking prices to determine which is the "cheapest supermarket".
Discounters Aldi and Lidl are often at the top of this comparison, and Asda is regularly the cheapest of the traditional supermarkets.
Ocado, Waitrose and Tesco, on the other hand, are often at the bottom end of the table.
Eat at least five portions of a variety of fruit and vegetables every day
Some supermarkets have been introducing various schemes to help minimise food waste. One of my favourites is Lidl's "Too Good To Waste" box, which for £1.50 gives you 5kg of perfectly good produce that would otherwise be thrown away. One of these boxes is more than enough for a family to meet their fruit and veg intake for several days.
There are other ways to buy affordable fruit and vegetables. Buying seasonal produce is a good way of buying produce at peak quality and value, as offers often coincide with seasons.
Base meals on potatoes, bread, rice, pasta or other starchy carbohydrates
For staple carbs, buying supermarket own brands over branded alternatives can save you some money. For instance, a 500g packet of spaghetti can cost as little as 65p, whereas a premium pack can cost as much as £1.90. A 1kg packet of long grain rice is available from 45p but could cost you up to £4.40 if you were to choose a branded version.
Potatoes are relatively affordable across the board (perhaps because there are few branded options to choose from). A 2.5kg bag of potatoes is available from as little as 89p.
When it comes to bread, you can expect an 800g loaf of sliced white to cost from £0.34 all the way up to £1.25. Over the course of a shop, the savings can add up to a significant amount.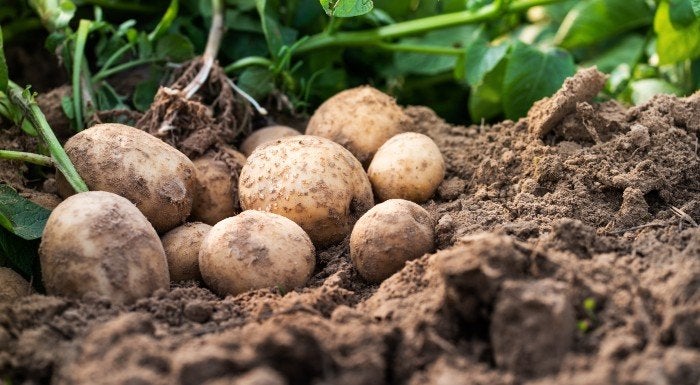 Have some dairy or dairy alternatives (like soya drinks and yoghurts)
Supermarkets often produce a full range of own-brand dairy products, from milk to cheese to yoghurt. They're also often far more affordable than popular brands.
Four pints (2.27L) of whole milk will cost between £1.35 and £1.50 depending on which supermarket you're shopping in. And for people who on dairy and lactose-free diets, many supermarkets offer own-brand dairy alternatives. These can be picked up for just under £1 — far cheaper than many independent brands but often very similar in ingredients, quality and nutritional profile.
Cheeses, while more expensive across the board, are also far more cheaper when opting for a supermarket's own brand. Looking at mature cheddar, supermarket value brands will come in as low as £2.19 for a 400g block. Named brands can reach nearly double that, with one of the most popular brands usually costing over £4 for a 350g block.
Nutritionally, there's very little difference between the two. Per 30g suggested serving, the £2.19 supermarket own brand version provides 125 calories and 7.5g of protein, whereas an identical serving of the popular brand version provides the same number of calories and 7.6g of protein.
It's a similar story for yoghurts and other popular dairy alternative products. High-protein yoghurts have become increasingly popular recently, but they can be on the expensive side. You can find own-brand versions from 75p, while named brand versions can cost up to double this for a similar-quality product.
Eat some beans, pulses, fish, eggs, meat and other protein
Beans and pulses are where supermarket own brands really shine. These products are routinely half the price of named brands and often similar or even superior in quality.
Let's look at the humble baked bean. One 420g tin of own-brand baked beans in tomato sauce is available for 40p, and a half tin serving contains 168 calories, 9.2g of protein, 9.9g of fibre and 8.5g of sugars. In comparison, a well-known popular brand costs from 90p for a 415g tin and contains 162 calories, 9.7g of protein, 7.7g of fibre and 9.8g of sugars.
Eggs are priced similarly across the supermarkets, and it's often quality you pay for. Free range and organic versions are on the more expensive side, but you can save yourself some money if you opt for caged varieties.
Meat, fish and similar protein sources tend to be significantly cheaper if you choose own-brand products but will still take up a significant amount of your overall budget. You may wish to try cheaper protein options, like tinned fish, beans, and other pulses, and dairy products.
Choose unsaturated oils and spreads, and eat in small amounts
Here's another instance when the supermarket's own brands are significantly cheaper for an identical-quality product.
For example, a 750ml bottle of extra virgin olive oil is available from £2.39 from one of the discount supermarkets, but branded alternatives can cost from £6 for the same amount.
And for olive oil spreads, similar products often have significant price differences. Supermarket own brands usually cost from 99p for a 500g tub while named brands can cost upwards of £2.50 for the same amount of a similar product.
Comparison takeaway
I was surprised to find that supermarket own brands are consistently cheaper and roughly equal to and often superior in nutritional quality to named brand alternatives.
If you're in a tight financial position, it's worth trying these own brand products at Lidl, Asda and Aldi, as they are routinely the cheapest of the major UK supermarkets.
Tips for eating healthy on a budget
Here are some of my other favourite tips for saving some money while still eating healthy.
1. Have a plan
Planning your meals not only helps ensure that you're meeting your nutritional needs, but also means you're rarely buying foods on the go (which can become quite expensive if a regular occurrence).
2. Try tinned foods
Tinned foods are typically cheaper than non-tinned alternatives and have a far longer shelf life. You can save money on initial cost and through reduced food waste.
3. Prepare meals in advance
Cooking in bulk and storing food can save you both time and money. Set aside time twice a week to prepare meals that'll last you three or four days.
4. Look out for yellow stickers
Yellow discount stickers are like finding gold in a river basin. You get the same product for a fraction of the price — a great way to keep costs down!
5. Buy produce that's in season
In-season produce is abundant and often on offer or a cheaper price than other times of the year. Do your research, figure out which fruits and veggies are in season and plan your meals accordingly.
6. Choose cheaper cuts
Cheaper cuts of meat are often thought to be less nutritious, but this simply isn't true. They may take a little longer to cook, but they make for delicious and highly nutritious stews and soups.
7. Avoid the coffee shop
A takeaway coffee can cost you a couple of pounds every day. Invest in a travel mug and you could save yourself quite a bit of money over a month.
8. Frozen may be a better option than fresh
Frozen fruit and vegetables tend to be cheaper than their fresh counterparts but often just as nutritious. "Fresh is best" is not always true, especially when it comes to fruit and veg.
Take home message
Food prices and the cost of living are expected to continue rising in the coming months. While it's a shame that the burden of this is passed on to consumers (as ever), without greater support, households can relieve the pressure through the weekly shop.
Next time you're in the supermarket, have a look at all the products on offer and compare prices, ingredients and nutritional information. You can often save yourself some money while buying similar (and sometimes superior) quality products that are a fraction of the price of brand names.
Enjoy this article?
READ MORE HERE:
Our articles should be used for informational and educational purposes only and are not intended to be taken as medical advice. If you're concerned, consult a health professional before taking dietary supplements or introducing any major changes to your diet.