Not feeling good in your gym kit on can really kill your workout vibe. You need to feel comfortable, supported, and confident in whatever you're wearing, so that you can fully focus on your workout.
Anyone who's experienced the realisation that the leggings you just wore for an hour-long leg day were totally see-through will understand just how important squat-proof leggings are. But it can be tough to know exactly which leggings out there are, and aren't going to fulfil your squat dreams. 
We're here to set you up with your next favourite pair of leggings with a little help from you. Here's what you thought of some of our top squat-proof leggings…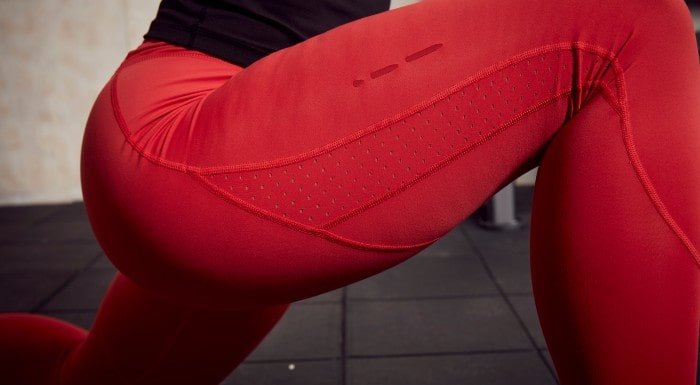 Seamless, sweat-wicking, body hugging, and perhaps most importantly, squat proof. 
The Curve Seamless Leggings are a classic from Myprotein. With loads of colours to choose from, a high waistband, and enhanced coverage, you'll walk into the gym feeling "amazing".

The Power Ultra collection is all about light and soft, yet durable and opaque fabrics. So it's no surprise the Power Ultra leggings don't fail on the squat proof front. The high rise is flattering, the fabric is durable, and the gussets have been improved even further for added mobility.

Our yoga collection, Composure, might not be suited for heavy lifts in the gym, but in order to comfortably move through your yoga class, you'll still want your leggings to be squat proof. 
Luckily, these leggings are just that. The soft, 4-way stretch fabric keeps you covered and the high waistband gives you just the right support. They might just become your "favourite leggings yet"!

The Power Mesh Leggings feature a double-lined back panel and supportive fabric to make sure you're comfortable and covered throughout your session. And if that's not enough, they're also treated with a hydrophilic finish to ensure sweat is wicked away and you remain dry throughout your workout.  
But proceed with caution, if you're anything like this customer, you might end up needing 3 or 4 pairs. 

The clue is in the name for this one – essential. Sweatproof, supportive, and of course, squat proof. The perfect companion for a range of different workouts, they're a bit of an all-rounder, and will have you squatting with confidence.

Take Home Message
You don't want to be distracted mid-squat with the worry that you're leggings aren't covering as much as you'd hoped they would. So stocking up on some reliable leggings is essential to give you peace of mind and confidence.
We hope we've introduced you to your new favourite pair of leggings, but if not, these are only our top 5. Have a browse through the rest of our clothing to find the gym fit of your dreams.