Need a dessert to adorn your Christmas table, but don't need a sugar fest after a big Christmas dinner? This protein-packed yule log is the perfect after-dinner delight. With Chocolate Impact Whey in every layer, this is the tasty way to make gains this Christmas.
You can also forget a calorific filling – made from Greek yoghurt and Impact Whey, this is a creamy indulgence that you can enjoy guilt-free. Dust with icing sugar to complete the wintry perfection – super simple!
Serves 10
https://youtu.be/9YqdF6Gf1yo
Ingredients
3 scoops of Chocolate Impact Whey Protein
1 tsp. baking powder
1 whole egg
1 egg white
50g Greek yoghurt
100g wholemeal flour
2 tbsp. cocoa powder
100g Protein Chocolate (dark)
1 tbsp. icing sugar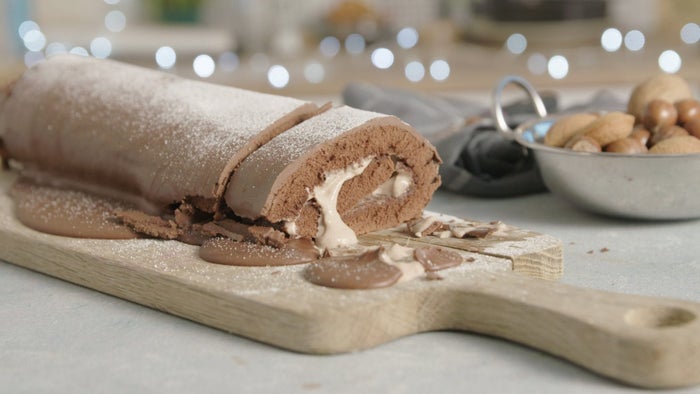 Method
1. Line a rectangular baking tray with parchment and preheat the oven to 180°C/160°C for fan-assisted.
2. Whisk the egg and egg white together before adding the coconut sugar.
3. Next, sieve the wholemeal flour and baking powder into the bowl, followed by the cocoa powder and mix together.
4. Then stir one scoop of the Chocolate Impact Whey and pour the mixture onto the baking tray.
5. Bake in the oven for 20 minutes, or until the sponge is springy to the touch.
6. For the filling, whisk together the Greek yoghurt with one scoop of Chocolate Impact Whey until smooth.
7. Remove the sponge from the oven, and once cool, spread over the filling.
8. Carefully roll the sponge to make your yule log.
9. Next break up the Protein Chocolate and put in a microwavable bowl with a scoop of Chocolate Impact Whey and coconut oil and melt in the microwave.
10. Remove from the microwave and whisk until smooth before spreading over the yule log.
11. Finally, dust with icing sugar before serving.
Enjoy this creamy chocolatey yule log so much that you need more Christmassy treats? Check out more recipes here!
Nutritional info per serving:
| | |
| --- | --- |
| Calories | 182 |
| Total Fat | 9g |
| Total Carbohydrates | 14g |
| Protein | 12g |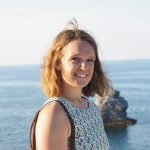 Evangeline is a Veganuary convert and newbie vegan with a degree in English and French from the University of Nottingham. Having recently ditched the meat and dairy, she really enjoys the new flavours and cooking techniques she's encountered on a plant-based diet. She's been shocked by the millions of ways you can use tofu, however still hasn't found a decent cheese substitute! When she's not in the office or eating, Evangeline usually out running or sailing. As a qualified RYA Dinghy Instructor and a marathon runner, she knows the importance of providing your body with the right nutrients for endurance sports as well as a busy lifestyle. Find out more about Evie's experience here.