This delicious New York protein cheesecake contains a fraction of the calories, fat and sugar compared with the classic, without skimping on flavour.
By baking this protein cheesecake, you can use lower-fat cheese and it'll still be super-creamy and hold together perfectly.
The crunchy base and sweet blueberry coulis are totally optional (but delicious), so you can cut down on calories even more if you prefer.
Click to jump straight to the nutritionals.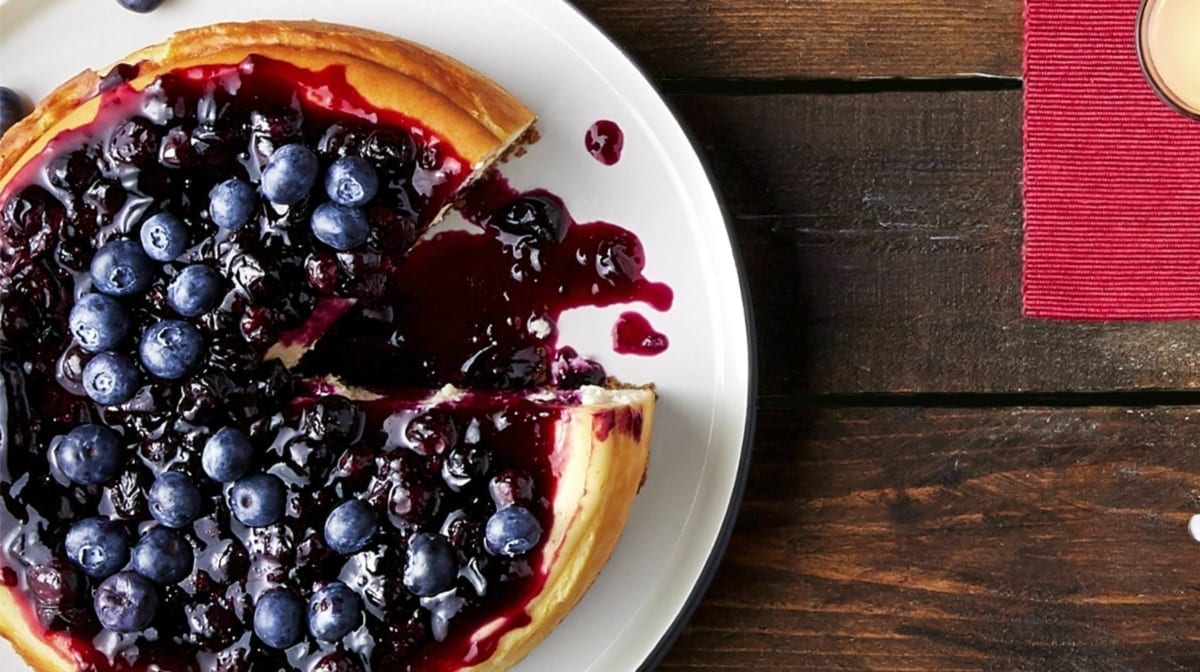 Makes: 8 slices
Ingredients
Base (optional):
50g rolled oats
70g almonds
½ tsp. salt
3-4 tbsp. of your preferred granulated sweetener
50g melted Coconut Oil
Filling:
500g low-fat cream cheese
350g Greek yoghurt
3 scoops (90g) Vanilla Whey Protein
2 large eggs and 1 egg white
12-15 drops Vanilla Flavdrops or 1 tsp. vanilla extract
2 tbsp. lemon juice
Coulis (optional, but delicious):
200g blueberries
1-2 tbsp. caster sugar or maple syrup
75ml water
Method
1. Preheat oven to 180°C and line the base and sides of an 8" springform cake tin with greaseproof paper.
2. First, make the crust. Blend together rolled oats, almonds, salt and sweetener until it resembles biscuit crumbs. Add the melted coconut oil and pulse to combine. The mixture should stick together like dough when squeezed. If the texture is too dry, add a little more melted coconut oil and blend again.
3. Firmly press the crust mixture down into the base of your lined cake tin, using the base of a glass to pack it in tightly. Bake on the middle shelf for 20-22 minutes or until golden brown. Once baked, remove and allow to cool while you make the filling.
4. While waiting, make the filling. Add all filling ingredients to a large mixing bowl, then use an electric whisk to whisk the mixture until smooth. Pour the mixture onto the baked crust.
5. Bake at 175°C for 25 minutes, then reduce the temperature to 90°C and bake for a further 50 minutes or once an inserted knife or skewer comes out clean. Remove and allow to cool completely in the tin.
6. While waiting for the cheesecake to cool, make the blueberry coulis. Heat a large non-stick frying pan to a medium heat and pour in the blueberries. Fry for 3-4 minutes, then add the water and sugar. Fry for a further 8-10 minutes to allow the mixture to reduce, stirring occasionally. Once you reach a thick, syrup-like texture, remove from the heat and pour into a bowl to cool.
7. Once the protein cheesecake and coulis are completely cool, remove the cheesecake from the tin and pour the blueberry coulis over the top. Eat immediately or cover and refrigerate for up to 5 days.