Our favourite vegan blogger is back, and she's making her ultimate vegan protein pancakes recipe.
Last month, we had our favourite vegan blogger, Naturally Stefanie (AKA Stefanie Moir), here with us making her Insta-famous Vegan Maca Protein Pancakes. And now she's back, making her best vegan protein pancakes yet!
Ultra-friendly Stef is a major hit on YouTube with more than 140,000 subscribers, describing herself as a "Scottish vegan who likes to lift heavy things in the gym". She uses her blog and YouTube to share her delicious tried-and-tested vegan recipes and her tough workouts that help sculpt her toned physique.
Check out the recipe and macros below, and don't forget to check out more tasty vegan recipes.
https://www.youtube.com/watch?v=bGk9BYRTD00
Makes: 6 small pancakes
Ingredients
Toppings

Method
1. First, make the chia egg by mixing the chia seeds and water in a cup and allowing to stand for 10 minutes (the chia seeds soak up the moisture of the water and become jelly-like, similar to the texture of an egg).
2. Next, add remaining pancake ingredients to a blender and process until smooth. Add the chia egg and pulse to combine.
3. Add coconut oil to a pan over medium heat. Pour out the batter (around 2-3 tbsp. at a time). Fry until the edges begin to turn golden, then carefully flip and fry for a further minute or so on the other side. Repeat for remaining batter.
Enjoy this recipe? Check out more healthy vegan recipes.
MACROS PER PANCAKE
Nutritional info per serving:
| | |
| --- | --- |
| Calories | 122 |
| Total Fat | 3g |
| Total Carbohydrates | 16g |
| Protein | 7g |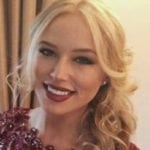 Jennifer Blow is our UKVRN Registered Associate Nutritionist – the UK's register of competent and qualified nutrition professionals. She has a Bachelor's of Science in Nutritional Science and a Master's of Science by Research in Nutrition, and now specialises in the use of sports supplements for health and fitness, underpinned by evidence-based research.
Jennifer has been quoted or mentioned as a nutritionist in major online publications including Vogue, Elle, and Grazia, for her expertise in nutritional science for exercise and healthy living.
Her experience spans from working with the NHS on dietary intervention trials, to specific scientific research into omega-3 fatty acid supplementation and also the effect of fast foods on health, which she has presented at the annual Nutrition Society Conference. Jennifer is involved in many continuing professional development events to ensure her practise remains at the highest level. Find out more about Jennifer's experience here.
In her spare time, Jennifer loves hill walking and cycling, and in her posts you'll see that she loves proving healthy eating doesn't mean a lifetime of hunger.