Double the deliciousness — this molten chocolate mug cake comes with an irresistible melted chocolate centre.
If you're the kind of person who always craves something sweet to finish you off after dinner, this incredible molten chocolate mug cake is sure to hit the spot.
It's a flourless recipe, made with just a few simple ingredients that shouldn't be hard to find in your kitchen cupboards. Plus, the gooey centre packs a protein hit thanks to our indulgent Protein Spread, which is made with quality whey concentrate and has 87% less sugar than supermarket alternatives.
In just a matter of minutes you'll be spoon deep into one seriously tasty dessert, get making yours now.
Makes 1
https://youtu.be/VGm5Phd3g0I
Molten Chocolate Mug Cake Ingredients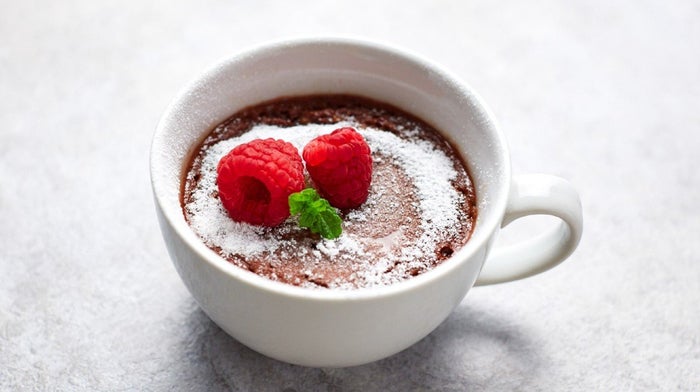 Method
Add the mashed banana, almond butter, cocoa powder and milk to a large microwave-safe mug and stir well with a fork until the mixture is thoroughly combined.
Then, add a generous dollop of Protein Spread on top of the mixture in the centre. You don't need to push it down, it will sink as it bakes.
Place your mug into the microwave and microwave for 90 seconds at 800 watts. Timing may vary according to your microwave, so we recommend keeping an eye on the mug cake throughout — it should rise, but if it starts to bubble over the rim of the mug then stop the microwave and let it stand for a few seconds. The edges should look set but the surface of the centre should look slightly wet and shiny.
Remove from the microwave and let cool for at least two or three minutes before eating. Be careful about the liquid centre — this molten chocolate mug cake will be extremely hot inside! If you're feeling extra, then why not add a sprinkle of icing sugar and a couple of berries like we have.
Enjoyed this mug cake recipe? Try this next:
Nutritional info per serving:
| | |
| --- | --- |
| Calories | 456 |
| Total Fat | 24g |
| Total Carbohydrates | 50g |
| Protein | 15g |
Lauren is an English Literature graduate originally from the South. She's always loved swimming, has discovered the power of weight training over the past few years, and has lots of room for improvement in her weekly hot yoga class. On the weekends she's usually cooking or eating some kind of brunch, and she enjoys trying out new recipes with her housemates – especially since shaking off student habits, like mainly surviving off pasta. Above all, she's a firm believer in keeping a balance between the gym and gin. Find out more about Lauren's experience here: https://www.linkedin.com/in/lauren-dawes-b4416aaa/