The words "healthy" and "cheesecake" rarely appear in the same sentence, but we've come up with a recipe that's an exception to this rule. With low-fat cream cheese and using honey for sweetener, you can feel good about cutting yourself a hefty slice of this dessert.
If a low-sugar dessert isn't enough, you can rest easy knowing you're meeting your macros while you dig in as it's packed with our Chocolate Impact Whey Protein. Even better, cut this masterpiece into 8 slices and you're looking at only 187 calories per slice — perfect desserts do exist.
Serves 8
https://youtu.be/OECJY2pnkS0
Ingredients
8 plain digestive biscuits – crushed to crumbs
30g low-fat butter – melted
1 tbsp. honey
180g low-fat cream cheese – room temperature
200g Greek yoghurt
4 egg whites
2 tbsp. cocoa powder
1 scoop Chocolate Impact Whey Protein
Chopped strawberries for topping
4 squares dark chocolate – melted
2 squares dark chocolate to grate on top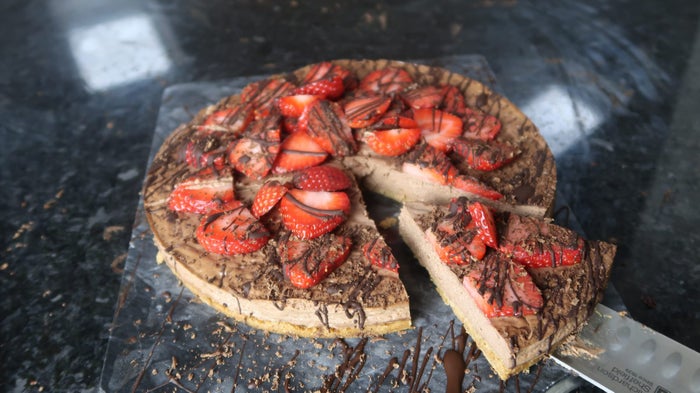 Method
1. Preheat your oven to 175°C and line an 8x8-inch cake tin with greaseproof paper.
2. Blend, or crush the biscuits until you have fine crumbs and pour into a large mixing bowl.
3. Mix the crumbs with the melted butter and honey before transferring into the cake tin.
4. Press the crumb mix firmly into the tin to form a smooth and level base and bake in the oven for 10 minutes.
5. While the base is baking, put the cream cheese into a mixing bowl and whisk for about a minute.
6. Then, add the egg whites and Greek yoghurt to the bowl and whisk together for about 2-3 minutes.
7. Next, add the cocoa powder and Impact Whey Protein to the mixture and whisk until smooth.
8. Pour the cheesecake mix over the biscuit base and spread evenly over the surface.
9. Bake the cheesecake for 20 minutes at 175°C, then lower the temperature of the oven to 150°C and bake for another 25 minutes.
10. Remove the cheesecake from the oven and leave it to cool completely, before placing in the fridge for 3 hours to set.
11. Garnish your cheesecake with strawberries, melted dark chocolate and grated dark chocolate, then dig in.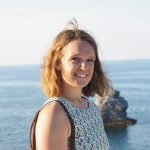 Evangeline is a Veganuary convert and newbie vegan with a degree in English and French from the University of Nottingham. Having recently ditched the meat and dairy, she really enjoys the new flavours and cooking techniques she's encountered on a plant-based diet. She's been shocked by the millions of ways you can use tofu, however still hasn't found a decent cheese substitute! When she's not in the office or eating, Evangeline usually out running or sailing. As a qualified RYA Dinghy Instructor and a marathon runner, she knows the importance of providing your body with the right nutrients for endurance sports as well as a busy lifestyle. Find out more about Evie's experience here.