When you're trying to lead a healthy lifestyle, your eating habits are the most important component - especially if you're stuck at home in lockdown and have little else to do! To follow a healthy diet, it is important to keep your kitchen stocked with some essential items that you can combine in many ways to create well balanced meals. 
Planning your meals ahead of time and following a strict shopping list can help you stay on track. 
Jump to: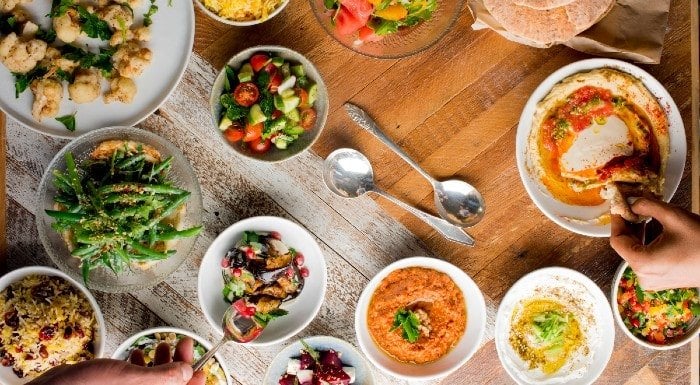 What Constitutes a Healthy Diet? 
When we consider a healthy diet, there are more components than you might think. While we want to base our meals around lean proteins, whole grain carb sources, and fruits and vegetables, there are more factors to consider thanks to the most recent Dietary Guidelines.1 
A variety of vegetables and fruits
Choose varied coloured vegetables (dark green, red and orange, starchy vegetables) and opt for whole fruits (berries, apples) over juice. Eating the whole fruit provides additional fibre and not just the sugary liquid that juice provides.
Aim for at least 3 servings of vegetables and 2 servings of fruit each day. 
Calcium sources
Whether you choose dairy milk or alternatives (soy, rice, oat), make sure you get about 3 servings of high-calcium foods per day to protect your bones and teeth. If choosing dairy products, opt for low fat versions when possible. If you drink an alternative milk, check the label to make sure it provides calcium. 
Protein foods
A variety of protein sources provides the best balance of nutrients and amino acids, but you can survive on all-animal sources or all-plant proteins, like beans, peas, and lentils. Try to limit fat and prepare protein foods in ways that don't add fat, like baking or broiling instead of frying.
Between 5 and 8 ounces of protein is enough for the day, but you may need more based on your workout routine. 
Fats
Choose heart-healthy oils over saturated fats, like olive oil instead of butter. Try to limit added fat when cooking foods, and select healthy fats for snacking like avocado, nuts, and seeds. Keep your saturated fat intake less than 10% of your total fat for the day. 
Salt
Limit foods that are in high sodium by avoiding highly processed foods (think foods that can sit on the shelf forever - mostly junk food) and restaurant foods. Try to not add salt when cooking. 
Added sugars
It can be hard to limit your sweet tooth, especially if you're bored. Try to keep healthy options around, like small portions of dark chocolate or your favourite fruit (natural sugar) on hand for when you're craving something sweet.  
Alcohol
While 1 drink per day for women or 2 per day for men can be part of a healthy lifestyle, alcohol is calorie dense - it provides 7 calories per gram, which is more than carbs or protein (4 calories per gram) and closer to fat (9 calories per gram). It can lead to weight gain, so consider whether or not fitting alcohol into your plan is a priority.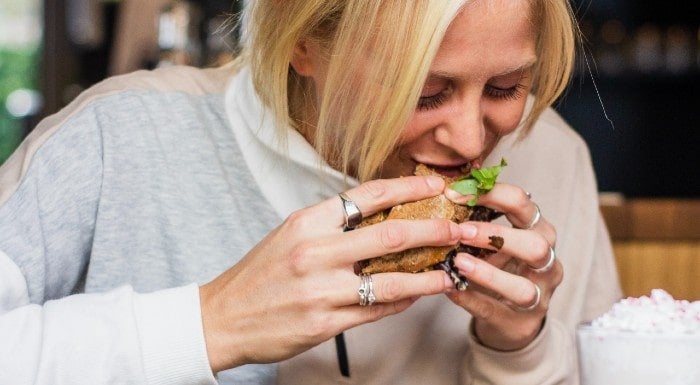 How Regularly Should You Eat?
While there is not a one-size fits all plan for the timing of your meals and snacks, consider the eating patterns that work best for you based on your lifestyle, workout, and work schedule. If you're following an intermittent fasting plan, you probably have the timing very structured. 
If you've never followed a regular eating pattern before, adding some structure to your day can help limit overeating and excess snacking. Eating breakfast within a few hours of waking can kickstart your metabolism and prevent overeating later in the day. 
Going more than 3 or 4 hours between large meals might require planning a healthy snack. While many people think eating before bed causes weight gain, the more important factor is your total calorie intake throughout the day. If you hit your calorie goals at dinner time, anything you eat later WILL lead to weight gain - simply from a positive calorie balance. 
Plan your meals and snacks based on when you feel the hungriest and when you need to prep for or refuel from your workout. We'll describe a plan that includes 3 meals and 2 snacks, but you can combine snacks for higher calorie meals or move them around based on your schedule. 
Your Healthy 7-Day Diet Plan
Keep in mind that portion sizes vary based on your individual calorie and exercise goals. 
Day 1
Breakfast:
Old fashioned oats with a scoop of protein powder 
Berries 
Almonds 
Morning Snack:
Apple slices 
Peanut butter 
Lunch:
Mixed greens salad
Grilled chicken
Yoghurt
Afternoon Snack:
Dinner:
Strip steak with sweet potato and green beans 
This day providers two sources of animal proteins and fruits and vegetables for snacks, balanced with some healthy fats. 
Day 2 
Breakfast:
Ancient grain toast with avocado and sliced tomato 
Orange slices 
Morning Snack:
Hard boiled eggs and raisins 
Lunch:
Black bean burger on whole grain bun 
Afternoon Snack:
Dinner:
Chicken and vegetable stir fry with brown rice 
This day combines vegetable-based proteins and animal proteins with whole grains to keep you satisfied and feeling full. 
Day 3 
Breakfast:
Banana-berry protein shake with one scoop protein powder, frozen banana, low fat milk, frozen berries, chia seeds 
Morning Snack:
Whole grain crackers and string cheese 
Lunch:
Low carb wrap with tuna salad and tomato 
Afternoon Snack:
Dinner:
Whole grain pasta with meat sauce and sauteed zucchini 
This day keeps grains relatively low until dinner time, reserving carbs for a filling whole grain pasta dish.
Day 4 
Breakfast:
Whole grain tortilla with scrambled eggs, cheese, peppers and onions 
Morning Snack:
Lunch:
Lettuce wraps with shrimp, cashews, coleslaw, and teriyaki sauce 
Afternoon Snack:
Dinner:
Roasted salmon and broccoli 
Caesar salad 
This day is moderately low in carbs, but could be lower without the tortilla at breakfast. Add in a serving of grains at dinner if you don't care about limiting your carbs. 
Day 5 
Breakfast: 
Greek yogurt with low sugar granola and mango 
Morning Snack: 
Lunch: 
Grilled chicken sandwich and side salad 
Afternoon Snack: 
Dinner: 
Beef vegetable chili with baked tortilla chips 
This day focuses on a heartier lunch meal and a vegetable/beef combination soup for a lighter dinner. 
Day 6 
Breakfast:
Whole grain toast with almond butter and apple slices 
Morning Snack:
Grapes and cottage cheese 
Lunch:
Vegetable soup 
Crackers 
Strawberries 
Afternoon Snack:
Dinner:
Cauliflower-crust pizza 
Spinach salad with hard boiled egg and strawberries 
This day focuses on fresh fruit, low carb pizza, and no meats. 
Day 7 
Breakfast:
Two poached eggs over spinach, meatless sausage 
Fruit salad 
Morning Snack:
Rice cakes with peanut butter 
Lunch:
Quinoa topped with roasted veggies and cilantro dressing 
Afternoon Snack:
Dinner:
Baked chicken in tomato sauce with couscous 
This day includes more involved meals for a day when you have time to cook - prepare leftovers to make the next day's meals easier. 
Take Home Message 
When you plan your meals for the week and only purchase the ingredients you need, it's easier to stick to a healthy eating plan. Based on your goals you can decide when to limit carbs or fat and when you can have larger portions. Combining simple snacks like fruit with a source of fat (avocado, nuts, or seeds), can make you feel more satisfied and prevent overeating.
Our articles should be used for informational and educational purposes only and are not intended to be taken as medical advice. If you're concerned, consult a health professional before taking dietary supplements or introducing any major changes to your diet.
U.S.

 Department of Health and Human Services and 

U.S.

 Department of Agriculture. 2015 – 2020 

Dietary Guidelines

 for Americans. 8th Edition.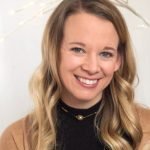 Claire is a Registered Dietitian through the Academy of Nutrition and Dietetics and a board-certified Health and Wellness Coach through the International Consortium for Health and Wellness Coaching. She has a Bachelor of Science in Biology and a Master's degree in Clinical Dietetics and Nutrition from the University of Pittsburgh.
Talking and writing about food and fitness is at the heart of Claire's ethos as she loves to use her experience to help others meet their health and wellness goals.
Claire is also a certified indoor cycling instructor and loves the mental and physical boost she gets from regular runs and yoga classes. When she's not keeping fit herself, she's cheering on her hometown's sports teams in Pittsburgh, or cooking for her family in the kitchen.
Find out more about Claire's experience here.