Australia's Fittest Cities
Whether you see keeping fit as a hobby or a way of life, fitness is massively important to millions of people around the country.
We wanted to find out which cities in Australia are home to the fittest residents and where people care the most about keeping fit.
Looking at factors such as where people are buying the most nutrition products from Myprotein, where you can find the most gyms to work out at, and which areas see the most fitness-related online searches, we've discovered Australia's fittest cities.
Australia's Top 3 Fittest Cities
When combining all of our factors and comparing them to the populations of each city, we were able to create a fitness score for each city, accounting for the number of gyms, the proportion of Myprotein nutrition customers, and the number of searches for fitness-related search terms. With these fitness scores, we can reveal the fittest cities in Australia.
1. Byron Bay
Though it may be a small place compared to some of the major cities on our list, Byron Bay is mighty when it comes to fitness. In fact, with 7.79 gyms and 347.18 fitness searches per 1,000 people, this is a city that takes its fitness very seriously. Known for being a surf culture hotspot, this coastal town is the perfect place for fitness fanatics with a fittest city score of 70.01.
2. Melbourne
This nature-filled city is clearly a hotspot for Aussies with a passion for fitness, with huge numbers of online searches for fitness-related terms, 356,560 annual searches for the top 10 terms such as 'gyms near me' and 'workout routine at home'. This contributes to the fittest city score of 41.77.
3. Sydney
Sydney is the most populated city in Australia, and it's home to plenty of fitness fanatics, accounting for more than 34% of Myprotein nutrition sales across the country. This is one of the factors that makes Sydney Australia's 3rd fittest city, with a fittest city score of 40.37.
The City Most Interested in Nutrition
 When we look at which city buys the largest amount of our nutrition products like protein powder and snacks, we can see that Sydney takes the lead with 34.06% of the Australian sales.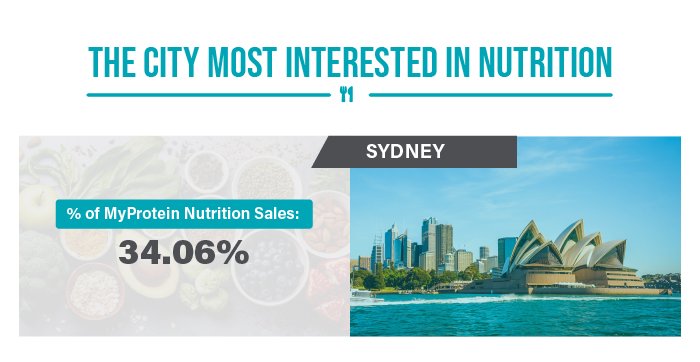 The Best City for Gyms
 While Melbourne might be home to the most gyms – 327 in total, it's Byron Bay that has the highest number of gyms per person. In fact, they have 7.79 per 1,000 people (72 in total).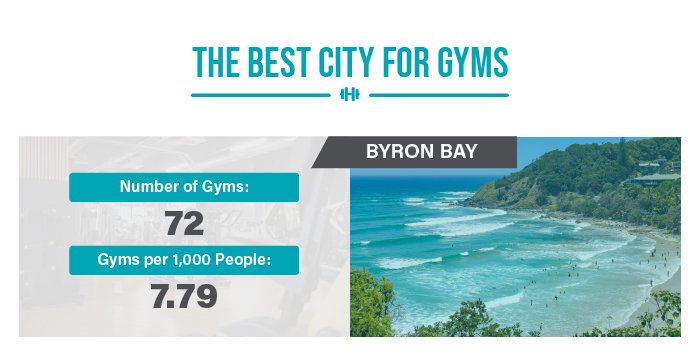 The City with the Most Online Fitness Fanatics
 When we combine the total searches for the top 10 fitness-related search terms, Sydney has the highest total of 358,620 annual searches, but again, it is Byron Bay that claims the highest number per person with 348.26 searches per 1,000 people.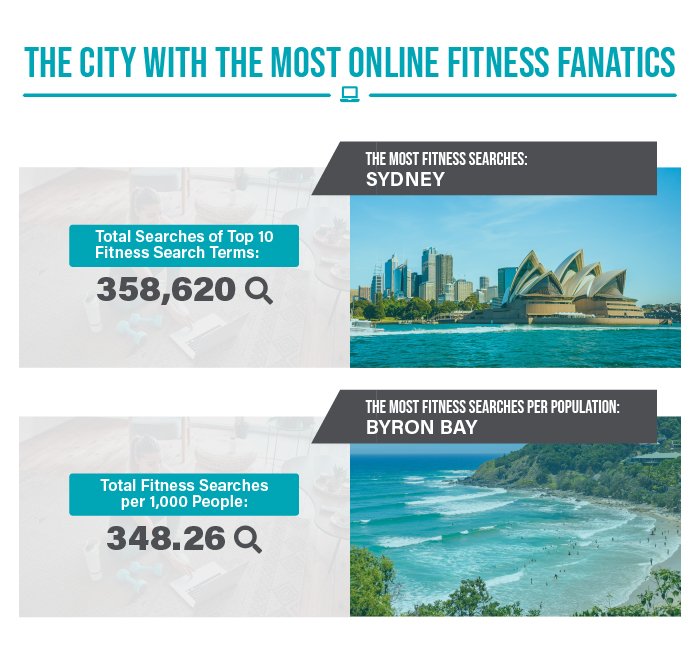 Australia's Fittest Cities Ranked

 The Most Popular Fitness Searches
 After looking at 50 fitness-related search terms, we're able to see the fitness queries Aussies are most concerned with.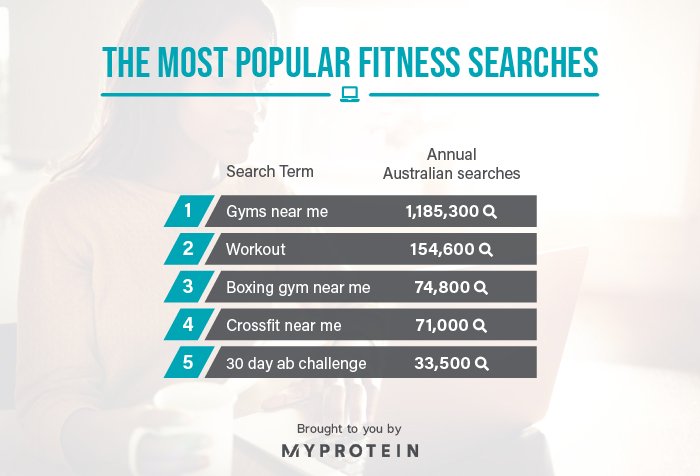 Methodology:
All sales data is provided by Myprotein and shows the percentage of total nutrition sales in Australia for each city.
The number of gyms was taken using Google Maps, searching for 'gyms in' each city.
The search terms were decided by conducting research using Google Keyword Planner and Ahrefs, discovering popular search terms related to fitness. We then narrowed down our list of 50 search terms to the 10 most popular and took annual average searches within each city.
The number of gyms and searches was normalised against the population of each city which was taken from Wikipedia.
We were then able to use these factors and apply a weighted ranking to create our ranking of Australia's fittest cities.