Here in Australia, we're lucky to boast some of the best beaches in the world. From sparkling waters and coral reefs to white sands and stunning sunsets, they provide the perfect backdrop for an exciting outdoor workout — whether that's hiking, jogging, swimming or surfing.
But which of Australia's beaches are guaranteed to give you the most picture-perfect views, no filter needed? We took to Instagram to find out — sifting through millions of photos to see which beaches have been tagged the most. Here's what we learned…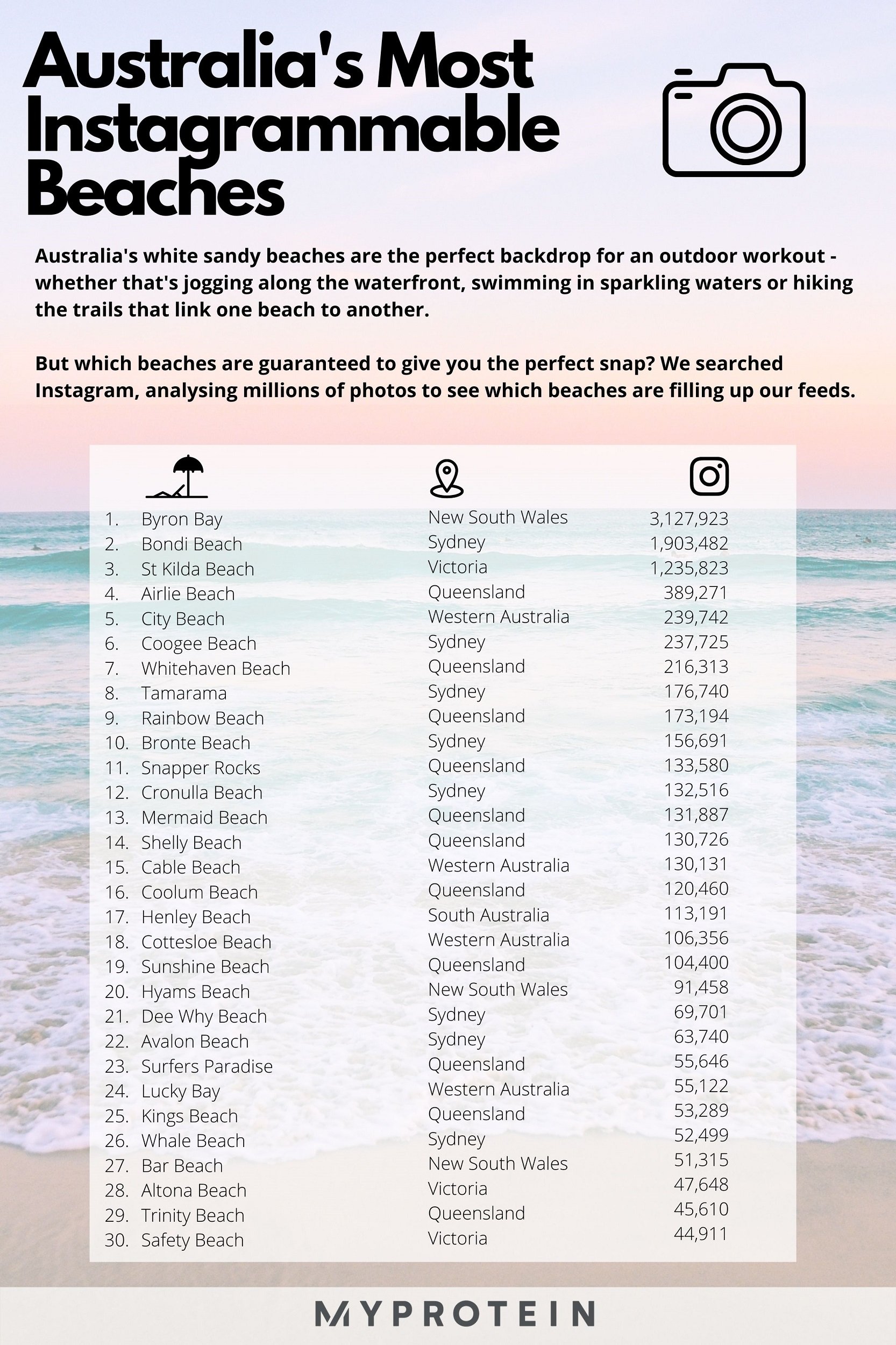 1. Byron Bay, NSW – 3,127,923 tagged photos
Grabbing the top spot is the ever-famous Byron Bay, with more than three million tagged photos. Technically a cluster of beaches rather than a single beach, this beautiful coastal town promises over 30km of sandy shores that are perfect for hiking, sunbathing or simply enjoying a gentle stroll.
Surfers can enjoy plenty of uncrowded waves across the area, with ideal conditions for both beginners and enthusiasts alike (lessons are available at the many surf schools nearby). Julian Rocks, just off the coast of Cape Byron, is also one of Australia's best underwater sites for snorkelling and scuba diving.
2. Bondi Beach, Sydney – 1,903,482 tagged photos
Next up, perhaps not surprisingly, is Sydney's Bondi Beach, with almost two million tagged photos on Instagram. Thanks to its brilliantly white sandy shore and excellent swimming conditions, it draws in millions of visitors from the world over and boasts breathtaking panoramic views.
The beach is also replete with world-class restaurants, a golf club and an outdoor exhibition of artworks along a 2km coastal walk, making it the perfect way to get some fresh sea air.
3. St Kilda Beach, Victoria – 1,235,823 tagged photos
St Kilda Beach in Victoria slides in at number three with over one million tagged photos. As a small beachside suburb, St Kilda is a hive of activity with walkers, joggers and rollerbladers racing by, and the bright waters filled with kitesurfers, windsurfers and all-weather swimmers.
The iconic pier provides excellent entertainment both day and night, as well as plenty of Insta-worthy views. Don't forget to snap a pic near the beach's colourful bathing boxes, a charming ode to times gone by.
4. Airlie Beach, Queensland – 389,271 tagged photos
Up next with over 380,000 tagged photos is Airlie Beach. Nestled within the heart of the Whitsundays region, Airlie Beach is the ideal vantage point from which to explore a myriad of natural wonders, including the Great Barrier Reef and the tropical waterfalls of Conway National Park.
It's also close to several waterfront parks, as well as al fresco restaurants and its popular markets, making it one of the most snapped beaches in Australia.
5. City Beach, Western Australia – 239,742 tagged photos
City Beach in Perth is next in our list with almost 240,000 tagged photos. With beautifully landscaped recreational areas, it offers excellent facilities for fishing, surfing, and safe swimming. There's also a children's playground, kiosk and fine dining restaurant overlooking the water, as well as barbecue areas and picnic tables.
Surrounded by affluent residences and promising heart-stopping sunsets, City Beach is a prime place for picture-perfect moments.
6. Coogee Beach, Sydney – 237,725 tagged photos
The chilled oasis that is Coogee Beach clocks up over 237,000 tagged photos thanks to its calm surf and family-friendly atmosphere. From restored historical buildings and parklands to upmarket boutiques and restaurants, it offers plenty to keep you entertained and even offers a women's-only rock pool, McIver's.
If you're up for the challenge, visitors can begin the coastal walk to Bondi, which is clearly marked and comes with stunning ocean views.
7. Whitehaven Beach, Queensland – 216,313 tagged photos
Known for its crystal white silica sands and sparkling turquoise waters, Whitehaven Beach comes in at number seven in the list, with over 216,000 tagged photos. This beach has won awards for its cleanliness and eco credentials, and offers the unique feature of retaining its cool sands, making it ideal for walking barefoot on a hot day.
From seaplane tours to day trips, snorkelling to sailing, Whitehaven has plenty to keep both locals and newcomers entertained.
8. Tamarama, Sydney – 176,740 tagged photos
Known as Glamarama to locals, Tamarama in Sydney is the place to be for wannabe trend-setters and hopeful celebrity-spotters. Clocking up nearly 180,000 tagged photos, it sits between Bondi and Bronte beaches and is regarded as a "secret paradise" by residents (many of whom would like it to stay this way).
Though small and peaceful, it's well-known for its spectacle waves that photographers and onlookers can marvel at from the cliffs above.
9. Rainbow Beach, Queensland – 173,194 tagged photos
The sub-tropical, heavenly town of Rainbow Beach makes the top 10 with over 170,000 tagged photos, and it's easy to see why. Much like its name suggests, the southernmost part of the beach is surrounded by rainbow-coloured sand dunes that look particularly stunning at sunset — ideal for a show-stopping Insta photo.
Take a stroll along one of the several walking tracks to take in the natural landscape or pay a visit to the Double Island Point lighthouse. Visitors can also explore the Cooloola National Park nearby or Seary's Creek for some freshwater swimming.
10. Bronte Beach, Sydney – 156,691 tagged photos
Just over a kilometre's walk south of Bondi is Bronte Beach, tagged in almost 160,000 photos on Instagram. Known for its clusters of natural rock pools, it's said to be one of Sydney's finest saltwater swimming experiences and is ideal for families and friend groups alike.
Behind the beach, a wide grassy park offers plenty of options for refuelling and relaxation, including barbecues and picnic tables.
Take Home Message
With so many fantastic beaches on our doorstep, it's not hard to get outside and see what nature has to offer. Whether it's hiking with friends, swimming, cycling or surfing, Australia's sandy shores offer plenty of ways to get fit and socialise…all while grabbing the perfect Insta snap.
If you're looking for ways to fuel a fun-filled day of beach activity, try our range of creatine supplements, including creatine powder and creatine tablets. Made up of three amino acids, creatine increases your body's ability to produce energy quickly and can also aid with recovery after a workout.
Methodology
We looked at the number of tagged photos on Instagram for over 130 beaches in Australia, including all relevant hashtags and their variants (e.g. #bondibeach, #bondibeachsydney, #bondibeachaustralia, #bondibeachmarkets). We then ranked the beaches in order to find the most Instagrammable beaches in Australia.