September's here and you've probably got a hundred things to sort before you head back to uni — there's books to buy, keys to collect, and your whole room to pack up and transport across the country.
We're on hand to make things super-simple with this back to uni essentials guide — we've got you covered from early seminars, to Sunday morning struggles.
What To Wear To Your 9am Lecture
Alarms… what are they again? Welcome back to the real world — the one in which people actually get up and go about their lives hours before midday.
Unless you've pulled some strings with the people who decide your timetable, you're probably going to have to face at least one of those dreaded 9am's every week — and the last thing you need is to waste precious minutes out of bed deciding what to wear. You need an outfit that you can throw on with no fuss, something that's comfy… with a hint of cool (just in case you bump into that person you got friendly with on the first night of Fresher's). Don't worry, we've got it down:
Men's
No one has time for jeans on a Monday morning — you might have made the effort to get out of bed, but you don't have to completely sacrifice all comfort.
With lightweight, loopback fabric and an elasticated waistband, you can properly make yourself at home on the back row of the lecture theatre.
Plus, we've included pockets so you can keep your phone and bus pass close to hand.
You can't go wrong with a plain tee. The Luxe Classic Crew comes in staple colours of black, white, and grey — and you might as well get all three because once you feel how super-soft this is, you won't want to wear anything else.

Finish it off with the Form Hoodie — a great match for the joggers, this lightweight outer layer will keep you warm on your way to class.
It's tailored for a slim-fit, with panelled style lines and metal drawcords for a touch of sleek style.
Women's
Yes, these have the technical features to push you through your workouts, but they're almost too good to keep just for your gym kit.
Made with super-soft fabric and a supportive high-rise waist, you'll stay comfy through the hours of note-taking — not to mention they'll definitely be able to handle your dash to the bus stop.
This is a really cute piece to layer up with, keeping you nice and snug without being too bulky.
It's made with soft loopback fabric, cut at a flattering cropped length, and has a double-layered hood to keep you protected from unpredictable September showers.
What To Wear On Rest Days
Let's be clear. When we say we have the perfect outfit for your 'rest day' we basically mean these pieces are great for living in most of your uni term. Ideal for chilling in as soon as you get back from lectures (if you've made it to them in the first place), it's as if we created these with your hungover Netflix marathons in mind…
Men's
If you don't already have something from the Tru-Fit collection, where have you been?
These are the ultimate sweats, made from a soft-touch cotton blend with internal fleece to keep you warm wherever you go, whatever you do.
Spot on for days spent under the duvet.
Women's
Why narrow it down to an outfit, when this whole collection is on point? Coming in two gorgeous shades — Blush and Oatmeal — every piece is made with super-soft, brushed-fleece fabric, a perfect match for no make-up and a messy bun.
Pair up the Luxe Lounge Hoodie with either the Joggers or Shorts for a cute, co-ordinated look that'll keep you snug — or, for super-casual comfort, wrap up in the oversized Luxe Lounge Sweater Dress.
Underneath it all? Well, there's a time and a place for underwired bras, but they're definitely not welcome here — treat yourself to the soft, lightly supportive Logo Crop Top instead.
What To Wear To The Gym
Now we don't want to jump to conclusions, but a break from deadlines and lectures has probably resulted in a break from the gym and working out too. No need to feel guilty — everyone knows the start of summer means the end of routine.
To help make your transition from the sofa to the squat rack go as smoothly as possible, we've picked out some of our best performance pieces — because you need to look the part for your big debut out of the changing rooms. Plus, everyone knows that new kit is great motivation in itself to get moving. You'll be burning off those pints and pitchers in no time.
Men's
A must-have for your training — whether you're crunching out a circuit session, burning up the track, or hitting the barbells, you'll be sorted in the Dry-Tech Infinity T-Shirt.
It's designed with lightweight, sweat-wicking fabric to help keep you cool and dry from start to finish, and has raglan sleeves to give you the best range of motion.
Plus, it's been treated with an antibacterial finish — meaning it'll stay fresher for longer between one session to the next.
Especially useful if you're still getting to grips with doing your own washing…
Our double-layered training shorts will keep you covered and confident for any activity — from deadlifts, to burpees, to cycling. They're made with 4-way stretch fabric and an elasticated waistband — giving you both comfort and the freedom to push yourself.
With invisible zip pockets, you have a secure place to keep your tech and locker keys safe too.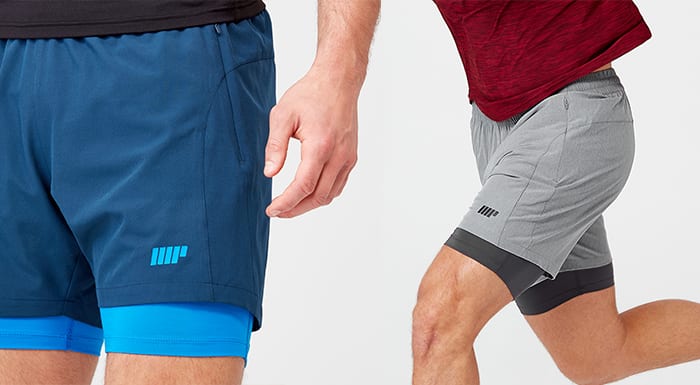 Women's
We know we might be a little biased, but these really are 'wow' leggings.
High-waisted with a flattering ribbed waistband, they're squat-proof, sweat-wicking, and come complete with mesh panelling — basically, they tick every box.
Choose from black, slate grey or, our favourite, a super-pretty mauve, you'll want these with you for every workout.
Combine with the matching crop for one fierce training outfit.
With contrasting shaped panels for ultimate definition and raglan sleeves which let you move more freely, it's the ideal piece to top off your kit.
If you prefer a light layer of coverage over a tight-fitting crop to complete your look, we've got you.
You'll be free to breeze through any workout in the Luxe Touch Vest, made with a soft-touch cotton modal blend and off-the-shoulder sleeves, it can be tied into a knot front so you can switch it up whenever you feel like it.
So there's your shopping list — all that's left to do is wait for that loan to drop!
Check out the articles below for more gym kit must-haves:
Lauren is an English Literature graduate originally from the South. She's always loved swimming, has discovered the power of weight training over the past few years, and has lots of room for improvement in her weekly hot yoga class. On the weekends she's usually cooking or eating some kind of brunch, and she enjoys trying out new recipes with her housemates – especially since shaking off student habits, like mainly surviving off pasta. Above all, she's a firm believer in keeping a balance between the gym and gin. Find out more about Lauren's experience here: https://www.linkedin.com/in/lauren-dawes-b4416aaa/