Sweet, sticky, and incredibly simple.
These homemade cinnamon rolls are one to fall back on time and time again, whether you're after an indulgent-tasting high-protein breakfast or something to satisfy your sweet-tooth in the evening.
Made with just a handful of stock cupboard ingredients, we guarantee these will be your new go-to when you're in the mood for something sweet and comforting. Instead of a super sugar-heavy icing, we've found that a simple mix of milk and our incredible Cinnamon Danish flavoured Impact Whey Protein can do the same job just as well — and it's much better for your training goals. Winning.
Makes 2
Ingredients
3 tbsp. milk
120g self-raising flour
120g Greek yoghurt
1 tsp. coconut oil (melted)
1 tsp. cinnamon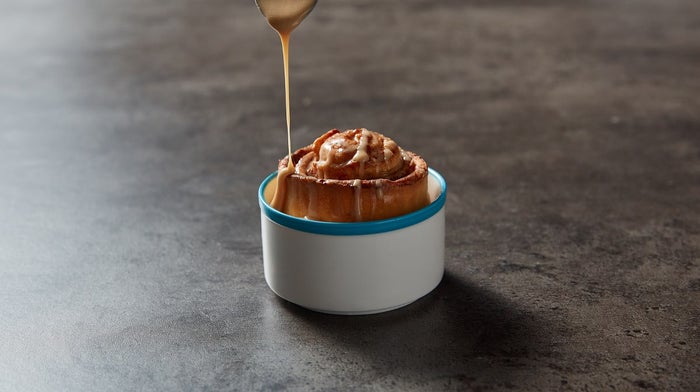 Method
1) Preheat oven to 180°C.
2) In a small bowl, mix together the milk and cinnamon protein powder until smooth, then set aside.
3) Next, mix together the flour and Greek yoghurt until you have formed a dough. Sprinkle a little flour on your kitchen surface to prevent it from sticking, then roll it out upwards into a long strip that's around 1cm thick. You will have enough dough to make 2 separate servings — if you don't want to make both at once, keep the leftover dough in an airtight container in the fridge to use the next day.
4) Use a knife to cut away the uneven edges so that you have a long rectangle-shaped strip of dough, then brush with a layer of melted coconut oil and sprinkle with plenty of cinnamon. Then roll up the dough from the bottom of the strip so that you get a tight roll.
5) Place your cinnamon roll into a small oven-proof ramekin or mug, then bake for 15-20 minutes until golden brown and cooked through.
6) Allow to cool for a few minutes, then drizzle generously with the cinnamon & milk protein mix you made earlier and tuck in! Simple and so, so delicious.
Try these simple desserts next:

Nutritional info per serving:
| | |
| --- | --- |
| Calories | 357 |
| Total Fat | 9g |
| Total Carbohydrates | 47g |
| Protein | 19g |
Lauren is an English Literature graduate originally from the South. She's always loved swimming, has discovered the power of weight training over the past few years, and has lots of room for improvement in her weekly hot yoga class. On the weekends she's usually cooking or eating some kind of brunch, and she enjoys trying out new recipes with her housemates – especially since shaking off student habits, like mainly surviving off pasta. Above all, she's a firm believer in keeping a balance between the gym and gin. Find out more about Lauren's experience here: https://www.linkedin.com/in/lauren-dawes-b4416aaa/