Looking for tuna steak recipe ideas?
Try this seared tuna steak with pink peppercorns and sweet potato wedges for a batch of super-healthy and super-delicious lunches.
Time to mix up your regular meat options? A juicy tuna steak will hit you with an impressive 33g of protein with less than 1.8g of fat. Oh, and it's packed with plenty of important, heart-healthy omega-3 fatty acids. We think that's a catch.
Makes 4
https://youtu.be/DOYuA9cgqlI
Ingredients
For the tuna steaks:
4 x 150g tuna steaks
1 tsp. coarse sea salt
1 tbsp. 100% Coconut Oil (melted)
2 tbsp. pink peppercorns
For the sweet potatoes:
4 large sweet potatoes
1 tbsp. plain flour
1/2 tsp. salt
1/2 tsp. pepper
1/2 tbsp. 100% Coconut Oil (melted)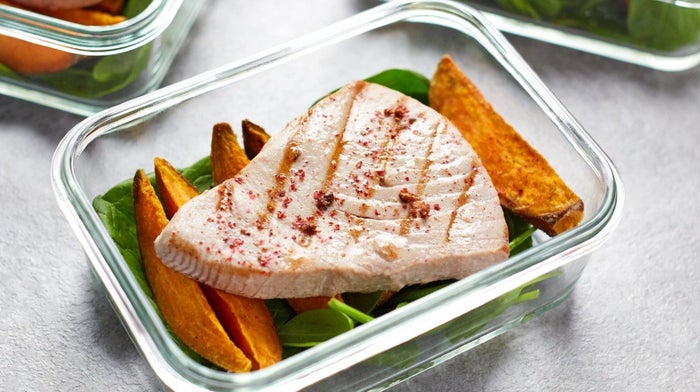 Method
First, preheat your oven to 200°C.
Then, prepare the sweet potatoes. Scrub clean each potato and prick all over with a fork. Place onto a microwavable plate and microwave on high for 4-5 minutes, then remove from the microwave and allow to cool for a minute or two.
Once cool enough to touch, cut the sweet potatoes into wedges. Sprinkle the flour, salt, pepper and melted coconut oil over the wedges and shake them about a little to coat them (this will make them super-crispy). Pop them onto a baking tray and bake at 200°C for 15-20 minutes.
When the sweet potato fries are nearly ready, it's time to cook your tuna steaks. Coat each steak with melted coconut oil on both sides, then sprinkle with salt, and place in a large frying or griddle pan that's already been over the heat for a minute or so.
Fry the tuna steaks on each side for 1-2 minutes if you prefer seared tuna, or 3-4 minutes on each side if you prefer it cooked through.
Prepare your meal prep boxes with a bed of salad or spinach leaves, then divide up the sweet potato wedges and finally add a tuna steak. Sprinkle the steak with crushed pink peppercorns and serve with a lemon wedge.
Store in airtight containers in the refrigerator for up to 3 days. When ready to eat, remove the lid and place it loosely back on top, leaving a little gap. Microwave on high for 3 ½ minutes or until piping hot. Allow to stand for 1 minute before eating.
Enjoy this tuna steak recipe? Check out these delicious meal prep ideas next.
Nutritional info per serving:
| | |
| --- | --- |
| Calories | 342 |
| Total Fat | 7g |
| Total Carbohydrates | 33g |
| Protein | 38g |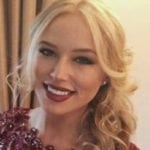 Jennifer Blow is our UKVRN Registered Associate Nutritionist – the UK's register of competent and qualified nutrition professionals. She has a Bachelor's of Science in Nutritional Science and a Master's of Science by Research in Nutrition, and now specialises in the use of sports supplements for health and fitness, underpinned by evidence-based research.
Jennifer has been quoted or mentioned as a nutritionist in major online publications including Vogue, Elle, and Grazia, for her expertise in nutritional science for exercise and healthy living.
Her experience spans from working with the NHS on dietary intervention trials, to specific scientific research into omega-3 fatty acid supplementation and also the effect of fast foods on health, which she has presented at the annual Nutrition Society Conference. Jennifer is involved in many continuing professional development events to ensure her practise remains at the highest level. Find out more about Jennifer's experience here.
In her spare time, Jennifer loves hill walking and cycling, and in her posts you'll see that she loves proving healthy eating doesn't mean a lifetime of hunger.