Chicken and rice gets a bad rap, but let's be honest, it's a classic meal prep choice that you can always rely on to keep you full and on track with your macros. Who can argue with that?
There's nothing worse than plain, dry chicken though — so Niall's here to make sure you're spicing things up with these three super-simple marinade ideas. They can be made in a matter of minutes and are great for adding a juicy burst of flavour to what could be a pretty uninspiring lunch.
If you have time to make them up in advance and leave your chicken to marinate overnight, you're winning at life. But no worries if not, they're just as delicious when baked straight away!
Makes 3
https://youtu.be/qYOCicMYwb4
Ingredients
Tikka Masala:
1 tsp. tikka masala paste
2 tbsp. natural yoghurt
1 tsp. 100% Coconut Oil
½ lemon (juiced)
Cajun Spiced: 
2 tbsp. Cajun seasoning
1 tsp. 100% Coconut Oil
½ lime (juiced)
1 tbsp. tomato puree
Lemon & Herb:
1 tsp. 100% Coconut Oil
1 garlic clove (crushed)
1 tbsp. rosemary (or any herb of choice)
2 lemon slices
Tip: if you want to do more than one chicken breast per marinade, multiply ingredients by the number of breasts you are using.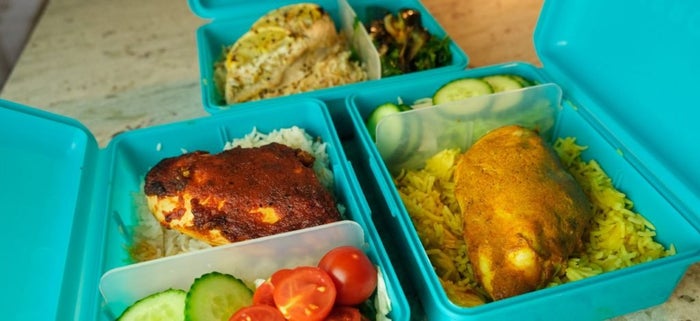 Method
Firstly, preheat your oven to 200°C/400°F.
Then, combine all marinade ingredients in a small bowl — except for the lemon & herb as you can add the ingredients straight to your chicken breast.
Add your chicken breast to your marinade and make sure to coat completely.
If you have time, leave to marinate for a few hours or overnight, but don't worry if you don't.
Then transfer your chicken breast to a baking dish and bake in the oven for 25-30 minutes.
Pack your chicken breasts into your Klick Boxes, along with 250g of cooked rice and a side salad or veg of your choice.
Nutritional info per chicken breast:
| | | | | |
| --- | --- | --- | --- | --- |
| | Calories | Protein | Carbs | Fat |
| Tikka Masala | 254 | 49.4g | 3.5g | 8.7g |
| Cajun Spiced | 257 | 47.5g | 11.3g | 6.4g |
| Lemon & Herb | 219 | 46.9g | 3g | 6g |
For more meal prep ideas, check these out next:
Lauren is an English Literature graduate originally from the South. She's always loved swimming, has discovered the power of weight training over the past few years, and has lots of room for improvement in her weekly hot yoga class. On the weekends she's usually cooking or eating some kind of brunch, and she enjoys trying out new recipes with her housemates – especially since shaking off student habits, like mainly surviving off pasta. Above all, she's a firm believer in keeping a balance between the gym and gin. Find out more about Lauren's experience here: https://www.linkedin.com/in/lauren-dawes-b4416aaa/