Japanese Garlic Prawns
Japanese Garlic Prawns a delicious creamy sauce packing a great flavour into the juicy prawns. It's a real culinary treat without being difficult to make and with 22 grams of protein and only 158 calories before adding the rice it's a great meal!
You will need:
Chicken Stock Cube/ Fresh stock – 1 or 2 Cubes (Make up 1.5 ltrs of stock)
Single Cream 150ml
Garlic 3 – 6 Cloves
White Wine Vinegar – 3 Tbsp
Dry Mustard Powder – 1 Tbsp
Butter – 25g
Plain Flour – 25g
Prawns – 600g (100g Per Person)
Method:
Firstly start by melting the butter in a pan and adding the flour mix together until it makes a dough like ball, a ladle spoon at a time of chicken stock
Remember – keep stirring, once all the stock has gone add the chopped garlic cloves, Mustard Powder and white wine vinegar.
Bring to the boil and add the Prawns on a medium heat until thoroughly cooked
Once prawns cooked remove from the heat add salt and pepper to taste and single cream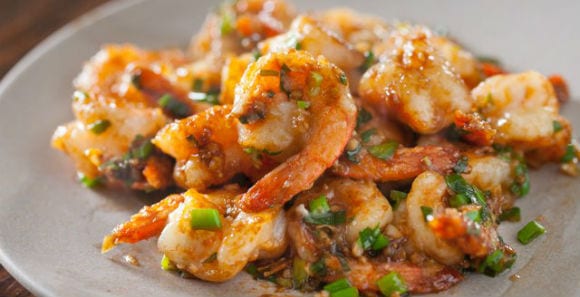 To Serve:
Serve with plain brown rice cooked until soft while still very hot mix in 2 raw egg whites and chopped chives.
This recipe serves 6 people