Which popular fitness trends have really captured our attention and which have we left behind this year?
We all have our own fitness goals, whether you're looking to bulk up, slim down or just keep in shape. But whatever your overall aim is, avoiding boredom is key. As soon as you start to find your workout boring, you start putting in less effort,  and you'll be less likely to see results. Luckily, the world of fitness is constantly changing, meaning there's always a new fitness trend you can try if you're looking for a change.
We used Google Trends to analyse search data over the last 12 months, tracking which workouts have seen the biggest increase or decrease in popularity. We also teamed up with Myprotein PT Tom Bailey to make some predictions about how we'll be working out in 2022.
Most popular fitness trends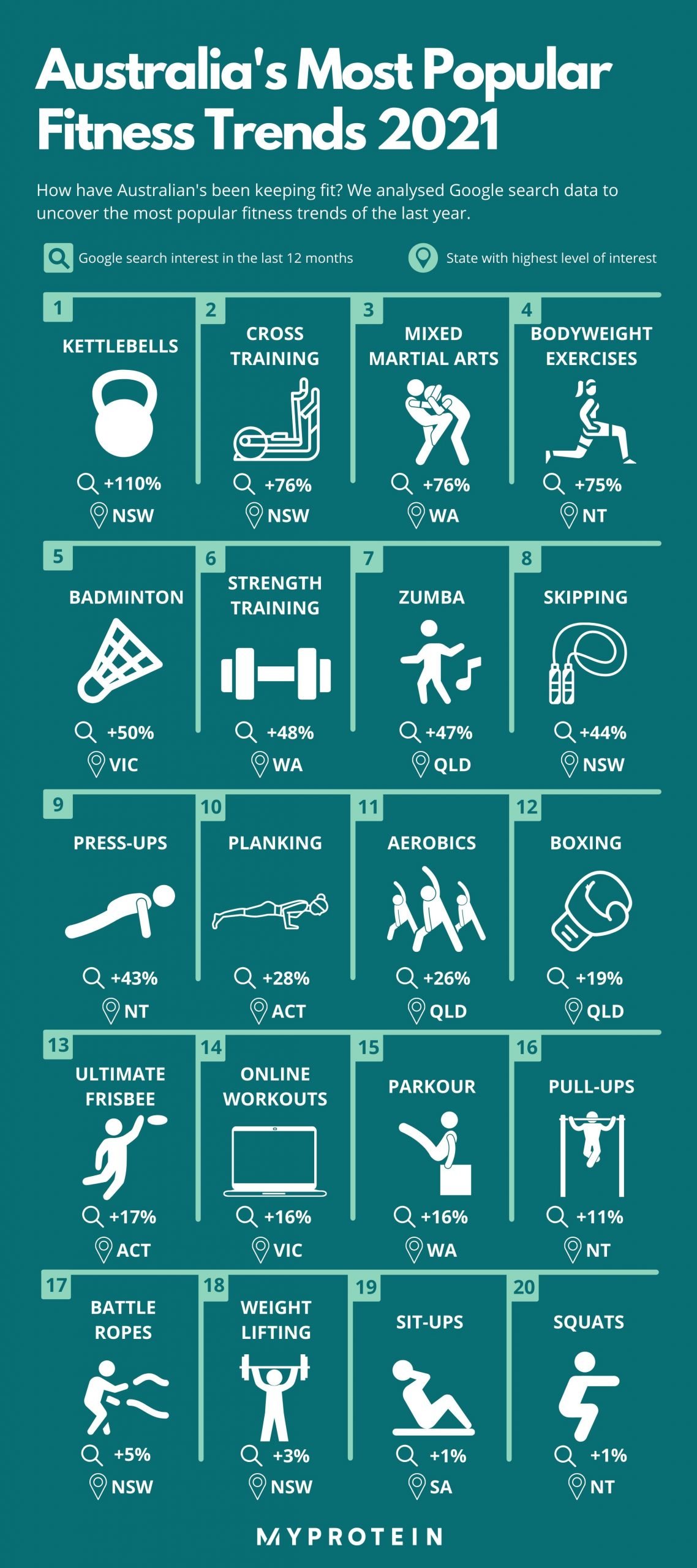 Minimal equipment, maximum output
With gyms being one of the last places to reopen following various regional lockdowns, it's no surprise to see a rise in people searching for alternative ways to workout, often with minimal equipment and limited space.
Search interest for bodyweight exercises rose by 75%, while press-ups (+43%), planking (+28%), pull-ups (+11%), sit-ups (+1%) and squats (+1%) also saw their popularity increase.
As people started to spend more time outdoors, interest in ultimate frisbee (+17%) and parkour (+16%) increased, with the Australian Capital Territory and Western Australia showing the highest levels of popularity.
However, it wasn't just bodyweight exercises and alternative sports keeping Australians active. Kettlebells were the most popular fitness trend of 2021, with a 110% increase in searches over the last 12 months, and New South Wales showing the highest level of interest. Strength training saw a 48% increase in popularity, with battle ropes (+5%) and weightlifting (+3%) also enjoying boosts.
Least popular fitness trends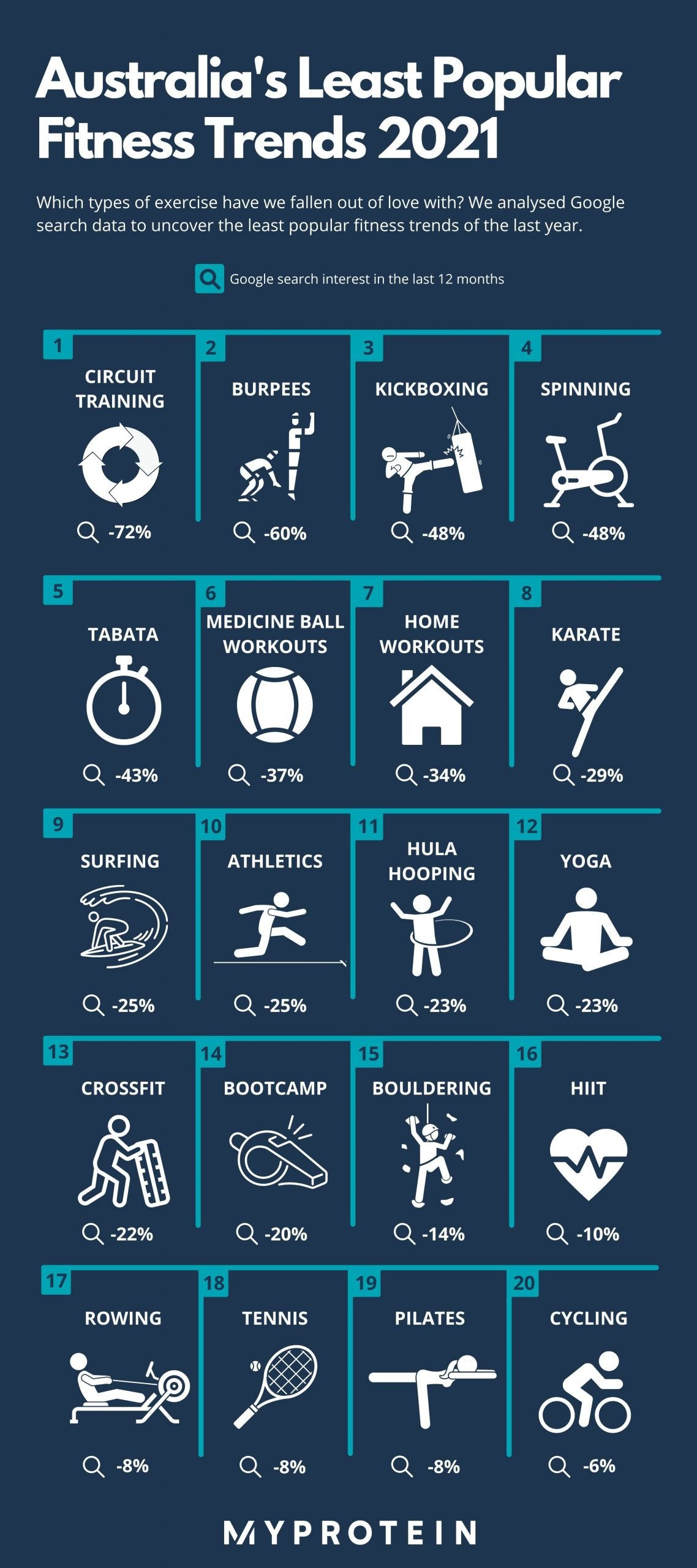 Saying goodbye to group workouts
In a year largely defined by social distancing, we saw interest fall in several previously popular group workouts.
Circuit training saw the biggest fall, with search interest decreasing by 72% over the last 12 months. But it wasn't just circuit training we left behind. Spinning (-48%), tabata (-43%), CrossFit (-22%) and bootcamp (-20%) all also fell out of favour with Australians.
As well as group workouts, a number of sports also saw their popularity fall in 2021, including kickboxing (-48%), karate (-29%), surfing (-25%), athletics (-25%), rowing (-8%), tennis (-8%) and cycling (-6%).
How will we be working out in 2022?
Now we know how Australians have been keeping fit over the last year, it's time to look to the future. What do the next 12 months have in store? We teamed up with Myprotein PT Tom Bailey to predict some fitness trends we might see in 2022. Here's what Tom had to say:
People will out-grow their home gyms
"2021 was lockdown after lockdown, being confined to our four walls with little to keep us busy. We turned to at-home training as an effective way to spike endorphins and break up the monotony of being sat inside all day. Many of us rapidly outgrew or lost interest in living room HIIT workouts which meant kitting out a mini home-gym or garage gym with adjustable dumbbells, benches, barbells and plates. For most people this was a great introduction to weight training and was enough to keep them progressing and interested but not for much longer."
"I predict a big increase in gym-goers and people that started doing some form of weights at home, looking to continue progressing with their weight training by signing up to a gym where they have more equipment versatility, more space and heavier weights. Strength training is on the rise compared to last year and I believe it will continue to grow."
We'll seek out a balance of physically and mentally stimulating exercise
"With limited gym access throughout the year, this opened the minds of gym-rats to the possibilities of exercising outside of the gym environment. With a good base level of fitness and strength, they found activities where they could actually put their training to use but with increased social and mental stimulation."
"We're seeing a rise in activities like mixed martial arts, Brazilian jiu-jitsu and cross training —  many of which combine the challenge of physical strength and endurance, a social aspect and mental acuity."
Online coaching will continue to increase
"Although fast-tracked as a result of lockdowns, I believe online coaching is still in its infancy. There are thousands of online coaches but many are figuring out how to best deliver services such as personal training, nutrition coaching and accountability through an online platform while still being as effective as in-person coaching. In addition to this, many people are tentative about online coaching for this very reason — the fear of not getting as good a service as in-person."
"Online coaching platforms are continuing to evolve every month with more metrics to track progress, and better technology to keep people accountable and deliver the best possible service, but I predict it will take at least another year before having an online coach is as popular as somebody having a personal trainer."
Take Home Message
Nobody wants to find their workout boring — we all want to enjoy exercise. Luckily, there's an endless array of fitness trends to try, meaning you can always find something to keep you interested and to make sure you keep giving 110%. And if you're looking to add some variety to your nutrition this year, check out our range of healthy foods and snacks, or why not try our plant-based protein?
Methodology
We built a list of over 50 different workouts and forms of exercise, then used Google Trends to track the search interest around each over the last 12 months. We then looked at how much interest had risen or fallen over that period to uncover Australia's most and least popular workout trends.
How have Australians been keeping fit? We analysed Google search data to uncover the most popular fitness trends of the last year.