---
We're serving up a spicy, indulgent-tasting, curry-licious halloumi recipe! 
---
This halloumi curry recipe from @niallkirkland is the perfect flavour-packed dish to combat those takeaway cravings. You might be more used seeing everyone's favourite squeaky cheese in a pitta or salad, but we absolutely back this fusion of cuisines. The rich curry base is silky smooth, making it the perfect pairing for crispy, spiced cubes of halloumi. Heaven.  
Ideal for switching it up from your usual takeaway order or for days where you're trying to reduce your meat intake.  
Recipe serves 4 
Ingredients
For the halloumi:
1 block halloumi (cubed)

 

½ tsp. cumin

 

½ tsp. turmeric

 

½ tsp. coriander

 

½ tsp. mild chilli powder

 

1 tsp. coconut oil

 
For the curry:
1 tsp. coconut oil

 

1 onion (finely chopped)

 

3 garlic cloves (grated)

 

1 thumb-sized piece of ginger (grated)

 

1 tin chopped tomatoes

 

1 tin light coconut milk

 

3 green cardamom pods

 

1 tsp. cumin

 

1 tsp. turmeric

 

1 tsp. coriander

 

1 tsp. garam masala

 

Salt and pepper to taste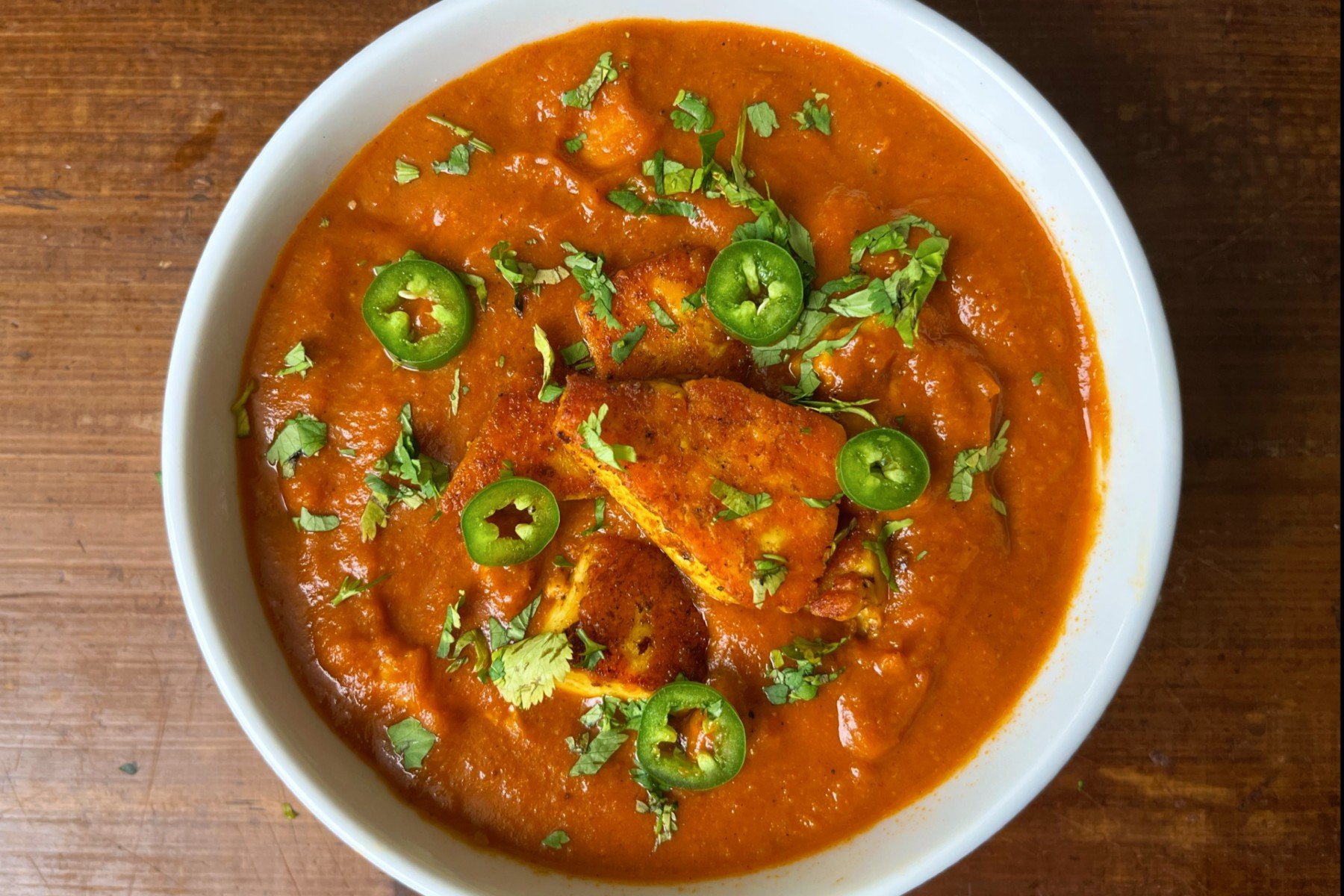 Method
First, add the grated garlic and ginger to a pestle & mortar, grind together to make a paste, then set aside.

Heat a tablespoon of coconut oil in a large pan and add the onions. Cook on low heat for 5-7 minutes until they're soft and showing some colour. 

Whilst the onions are frying, add the cubes of halloumi to a large bowl and coat with cumin, turmeric, coriander and mild chilli powder, then set aside. 

When onions are cooked, add the garlic and ginger paste, and fry for 2 minutes. Add the cardamom pods, cumin, turmeric, chilli powder, and coriander. Stir everything together before adding chopped tomatoes and a splash of water.  

Bring pan to a rapid simmer and cook for 10 mins until tomatoes have broken down, creating a gravy.  

After cooking gravy for 10 minutes, remove from heat and leave to cool for 5 minutes before transferring to a blender and blitz until smooth.  

Transfer blended sauce back to pan and add light coconut milk, salt, garam masala and honey. Stir everything together, bring pan to a simmer and cook for 15-20 minutes until sauce thickens. 

Meanwhile, heat coconut oil in a separate non-stick pan and add spiced halloumi. Fry for 5-10 minutes, until halloumi is crispy, then transfer to curry sauce. Stir everything together, continue to simmer until curry reaches desired consistency, then you're ready to serve! 
Nutritional Facts
Amount per serving
| | |
| --- | --- |
| Calories | 443 |
| Total Fat | 35g |
| Total Carbohydrates | 15.7g |
| Protein | 15.7g |