Who says you can't have your own Wing Wednesday at home?
Find yourself craving all the things you suddenly can't get as easily as before? Specifically, a pint and a platter of wings at the pub with your friends?
Well, don't worry about it — we've got your back with these delicious sticky Asian wings for you to make from the comfort of your own home. And what better time than now to put a new recipe to the test?
Served with a crisp & crunchy healthy slaw, it's the ideal fakeaway dinner to put a smile on your face.
Serves 6
https://youtu.be/oF_Pg-qwtMs
Ingredients
For the sticky wings:
100g cornflour
1 tbsp. salt
1 tbsp. pepper
1kg chicken wings
Low-calorie cooking spray
1 tbsp. sesame oil
2 garlic cloves (minced)
2 tbsp. ginger (grated)
4 tbsp. light soy sauce
4 tbsp. dark soy sauce
3 tbsp. sweet soy sauce
4 tbsp. Sugar-Free Sauce (Sweet Chilli)
For the healthy slaw:
1 red cabbage (finely shredded)
4 carrots (grated)
1 tsp. salt
2 tbsp. lemon juice
1 tbsp. sesame oil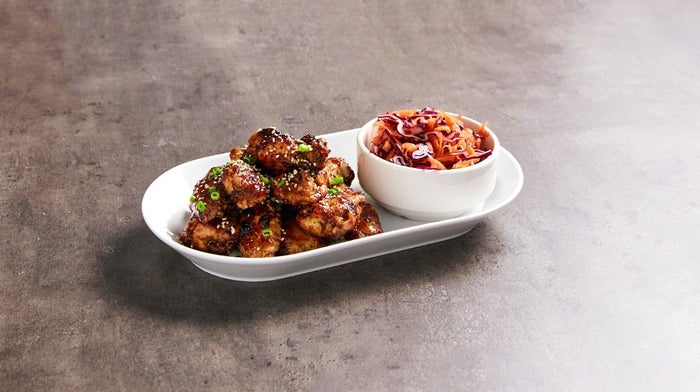 Method
First, preheat the oven to 180°C.
In a large bowl, make the coating for the wings by adding the cornflour, salt, and pepper and mixing well. Then add each chicken wing to the mixture and make sure to turn it about so that it's fully coated in flour.
Place each wing on a baking tray that's been sprayed with low-calorie cooking spray or greased with coconut oil. Then cook the chicken wings for 50 minutes, turning halfway.
Meanwhile, prepare the healthy slaw by adding the finely shredded red cabbage to a large bowl. Add the carrot, salt, lemon juice, and sesame oil — then toss with a pair of forks to make sure everything is mixed well and evenly coated in the dressing. Set aside.
Once the chicken wings are cooked, remove them from the oven and place to one side while you prepare the sticky Asian sauce. Place a large saucepan or wok over a medium heat, then add the sesame oil, garlic, ginger, soy sauce, and sweet chilli Sugar-Free Sauce.
Mix well and let simmer until the sauce thickens and bubbles. Then add your cooked chicken wings — turning them with tongs or a spoon to make sure they are all properly coated. Leave for a minute or two, then remove from the pan.
Stack the chicken wings and serve with a bowl of healthy slaw!
Nutritional info per serving:
| | | |
| --- | --- | --- |
| | Sticky Wings | Healthy Slaw |
| Calories | 508 | 92 |
| Protein | 51g | 2g |
| Carbs | 19g | 16g |
| Fat | 24g | 2.6g |
Lauren is an English Literature graduate originally from the South. She's always loved swimming, has discovered the power of weight training over the past few years, and has lots of room for improvement in her weekly hot yoga class. On the weekends she's usually cooking or eating some kind of brunch, and she enjoys trying out new recipes with her housemates – especially since shaking off student habits, like mainly surviving off pasta. Above all, she's a firm believer in keeping a balance between the gym and gin. Find out more about Lauren's experience here: https://www.linkedin.com/in/lauren-dawes-b4416aaa/