Protein Chocolate Balls
Looking for a quick high protein snack? If you like our peanut butter protein balls you'll love these protein chocolate balls! They are super easy to make and perfect for when you're on the go or god forbid...late for the gym!
Ingredients
To make these chocolate protein balls you'll need less than ten minute and these ingredients:
50g of rolled oats
75g of dried pitted dates
3 scoops of chocolate Impact Whey protein powder
50g of smooth peanut butter
1 table spoon of honey
1 table spoon of coca powder
75g of fat free Greek yogurt
20g of protein Crispies (optional- but adds a nice crunch!)
30g of chocolate chips (optional)
Method
Step One
In a bowl combine the oats, protein powder and cocoa powder.
In a food processor process 75g of dried dates with 50g of peanut butter until a sticky dough is formed.
Step Two
To the dry mix mash in the processed dates and peanut butter. – a bit of elbow grease may be required here!
Add one table spoon of honey , chocolate chips and 75g of yogurt.
Stir well until a thick dough is formed.
Step Three
To make the balls, take small amounts of the mixture and roll into small balls.
Store in the fridge.
And that's it... Super easy!
This recipe makes 10 balls.
Enjoy!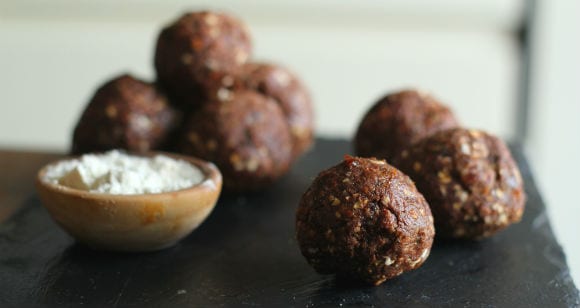 Macronutrients
Calories per ball: 123 Kcals
Protein: 10.7g
Fat: 3.2g
Carbohydrates: 13g
Sugar: 7.7g