Wrap up your favourite toppings into these deliciously soft and doughy pizza rolls.
They're perfect for a super-quick lunch or indulgent snack any time of the day — and they're the ideal size for dunking into your favourite dip or sauce.
All you need to get your hands on is some readymade pizza dough, plenty of grated cheese, whatever extras you fancy, and you'll be away! We went for three easy wins — classic pepperoni, veggie feast, and BBQ chicken — but this recipe will work for any of your favourite toppings. Although we absolutely will judge you for pineapple.
Each version makes 6 rolls
Ingredients
Classic Pepperoni:
1 sheet readymade pizza dough
200g tomato sauce/passata
50g low-fat mozzarella (grated)
50g pepperoni
Veggie Feast:
1 sheet readymade pizza dough
200g tomato sauce/passata
50g low-fat mozzarella (grated)
Handful of spinach
1 pepper (chopped)
Handful mushrooms (sliced)
1 red onion (sliced)
BBQ Chicken:
1 sheet readymade pizza dough
2 tbsp. Sugar-Free Sauce (BBQ)
50g shredded BBQ chicken
1 red onion (sliced)
50g low-fat cheddar (grated)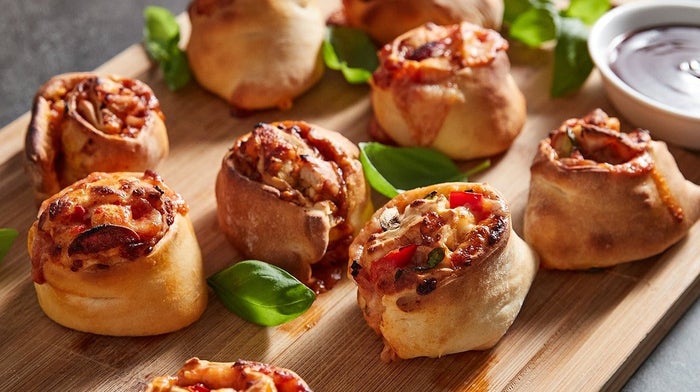 Method
Preheat the oven to 200°C and line a baking tray with baking paper.
First, roll out your sheet of pizza dough so that it's flat on a piece of baking paper. Then spread with either tomato sauce or BBQ Sugar-Free Sauce depending on which flavour you're making.
Add the toppings evenly on top of the base, sprinkle with a layer of grated cheese, and then carefully use your fingers to roll the dough up vertically with all the toppings on the inside.
Slice the rolled pizza dough into smaller pieces — aim to get 6 evenly sized sections — and then place each roll onto the lined baking tray so that the rolled insides are visible at the top.
Cook for 12-15 minutes until the dough is golden brown and the cheese has melted.
Allow to cool for a few minutes and then serve with plenty of Sugar-Free Sauce to dunk! Delicious.
Be careful when biting – the cheese can stay very hot on the insides!
Nutritional info per roll:
| | | | | |
| --- | --- | --- | --- | --- |
|   | Calories | Protein | Carbs | Fat |
| Classic Pepperoni | 117 | 5.5g | 10.8g | 5.4g |
| Veggie Feast | 90 | 4.3g | 13.2g | 1.8g |
| BBQ Chicken | 97 | 5.8g | 11.3g | 3.4g |
Lauren is an English Literature graduate originally from the South. She's always loved swimming, has discovered the power of weight training over the past few years, and has lots of room for improvement in her weekly hot yoga class. On the weekends she's usually cooking or eating some kind of brunch, and she enjoys trying out new recipes with her housemates – especially since shaking off student habits, like mainly surviving off pasta. Above all, she's a firm believer in keeping a balance between the gym and gin. Find out more about Lauren's experience here: https://www.linkedin.com/in/lauren-dawes-b4416aaa/